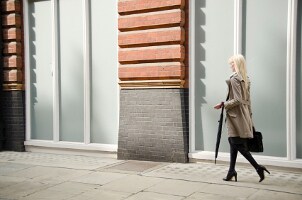 For the busy working woman, a leather briefcase can be a statement-making bag for all your work supplies. However, sometimes leather handbags and tote bags can also be great bags to take to work, and they have a more feminine style. Whether you choose a leather briefcase or a leather bag for your commute to the office is ultimately up to your budget and sense of style, but we've assembled these tips to help you choose which bag will be better for you. Keep reading to learn more about the advantages of leather briefcases and leather handbags.
Comparing Leather Briefcases:

Size. Today's leather briefcases for women come in a huge variety designed to accommodate everything from notebooks and files to laptops and binders. Many briefcases for women even look more like tote bags or large purses than the traditional briefcase, so you may be able to get the best of both worlds in one chic bag. Catalog cases and thin briefcases are excellent for writing pads, files and business cards, while leather laptop briefcases will have an extra padded compartment for your computer. Totes and large handbags can often hold laptops and files as well. Remember to consider the size and weight of the bag; if it hurts your shoulder or strains your arm, it's too heavy.

Function. If you need a bag mainly for work, a leather briefcase for women is your best choice. These leather bags have work in mind and can help you keep things better organized. If you want a more versatile bag, a leather handbag is the way to go. The leather allows these bags to assume the formal responsibilities of work, while the style gives you the freedom to switch it from a work bag to a girls'-night-out bag. Of course, many briefcases have features, such as removable shoulder straps, that allow them to convert to messenger bags, giving them similar versatility. Whether you choose a leather laptop briefcase or a leather purse, make sure the bag has good handles that are easy to grip and thick shoulder straps that evenly distribute the weight of the bag.

Style. If your budget and the usefulness of the bag don't narrow down your choices enough, the look of the bag is sure to help. Briefcases for women are classic work bags that often come with trendy options. They tend to exude a sense of power or achievement, especially ultra-professional bags like Italian leather briefcases. If you've worked hard to climb the corporate ladder or are looking to do so, an Italian leather briefcase in hand can help you project the image that you can do any task your boss assigns you. On the other hand, handbags are usually more trendy and chic, as well as feminine; if you work in a more casual environment or want to keep up with the world's top fashions, a handbag might be the better bag for you.

Buy Leather Briefcases
Back to Guides Directory