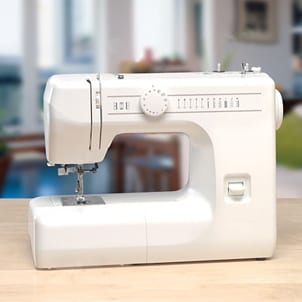 Stock up on the best accessories for Singer sewing machines so you're always prepared for new projects or missing accessories. Most sewing machines come with a few basic accessories to get you started. Purchasing more sewing machine needles, bobbins and other sewing accessories that are compatible with your Singer sewing machines means you will always have a replacement when you need one. Keep reading to learn more about Singer sewing accessories for your sewing machine.
Best Singer Accessories:

Basics: Basic Singer sewing accessories are the ones that usually come with the machine, such as Singer sewing machine bobbins, needles and presser feet. You can also buy these sewing accessories separately so you always have spares, and you can also use them for specialty Singer sewing machines, such as embroidery machines. Make sure you stock up on Singer sewing machine bobbins so your accessories and machine are compatible, as well as sewing machine needles at varying lengths and thicknesses for different sewing projects. Accessories like sewing machine covers or cases protect your machine when it is not in use and can make traveling with and storing your machine a bit easier.

Maintenance kits: Tools for repairing and maintaining your Singer sewing machine are the sewing machine accessories that many people forget. Purchasing Singer or universal maintenance kits will help you care for your machine so that it lasts longer and always performs at its best. Singer maintenance kits usually include such Singer sewing machine accessories as a machine cover, needle threader, screwdrivers, sewing machine oil and sewing machine light bulbs. Be sure to read your Singer machine's manual to know how often it should be oiled and how to put the machine back together.

Sewing kits: Purchasing sewing kits can help you stock up on all the sewing accessories that can be a pain to buy individually. These usually include Singer sewing machine accessories like spools of thread, scissors, seam rippers, thimbles, pins and a pin cushion. More specialized sewing machine accessories, such as zippers and patterns, can be found in deluxe sewing or repair kits. Sewing kits are perfect for acquiring all the necessary accessories and tools in one easy purchase; they also make fantastic gifts for the craftsperson or beginning sewer you know. Many of these kits come in their own storage box or pouch so you can keep your sewing supplies organized.

Buy Sewing Machines
Back to Guides Directory