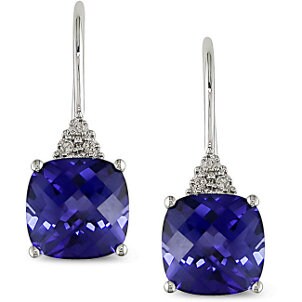 It was once believed that a gigantic sapphire made up the center of the Earth. Sapphires do come from the Earth and always impress us with their gorgeous hues and brilliant sparkle. Sapphire earrings may incorporate light blue or dark blue sapphires, as well as pink, yellow, orange and purple gems. Sapphire jewelry is perfect for any gift-giving occasion or gemstone earring collection. Sapphire earrings are incredibly valuable and will add a luxurious shine to your look. Frame your face with sapphire jewelry and let us give you a few good reasons to buy these gemstone earrings.
Why Buy Sapphire Earrings:

You were born in the month of September. September babies rejoice! The sapphire is your birthstone, giving you the perfect excuse to buy a variety of sapphire gemstone jewelry. Sapphire jewelry is the perfect gift for anyone who was born in the month of September. Gorgeous earrings with large pink sapphires will delight your young daughter, while dangling earrings with blue sapphires and diamonds will thrill your mother. Jewelry sets with matching sapphire gemstones are also available.

You love brightly colored jewelry. Many gemstones have pale hues, but sapphires are not one of them. Sapphires come in many different colors, and each hue is bright and beautiful. Blue sapphire gems are arguably the most popular; light blue and dark blue sapphires are both available in lovely earring designs. Pink sapphires are also very beloved; bright pink sapphires look fantastic in any piece of gemstone jewelry. Yellow, orange and purple sapphires also offer unique, bright colors to a gorgeous pair of earrings.

You collect precious gemstones. Sapphires are considered one of the four precious gemstones, along with diamonds, rubies and emeralds. Whether you have just started a collection of precious earrings with set of sparkling diamond studs or you have a variety of colorful gems, sapphire earrings will help round out your assortment. Once you have added blue sapphire earrings to your collection, consider adding pink or orange sapphires to your jewelry wardrobe.

You need an incredibly romantic gift. Maybe you've given your special lady a gorgeous diamond engagement ring, a lovely platinum wedding band and a pretty gold heart necklace, but you still want to spoil her with a unique romantic gift. Sapphire earrings are luxurious enough to be given on anniversaries, romantic holidays and other special occasions. Consider heart-shaped pink sapphire earrings this Valentine's Day or a pretty set of dark blue sapphire stud earrings to commemorate the birth of your first child.

Buy Sapphire Earrings
Back to Guides Directory