How to Clean a Leather Sofa
by Staff Writer
Published April 28, 2010 | Updated June 12, 2015
A leather sofa can be a durable and beautiful piece of living room furniture. However, if your leather sofas and loveseats aren't properly cared for, they will lose some of their beauty and can even become damaged. Fortunately, cleaning a leather sofa is simple. About once a month, or after a party or other event when your couch gets lots of use, follow these steps.
Cleaning Leather Couches: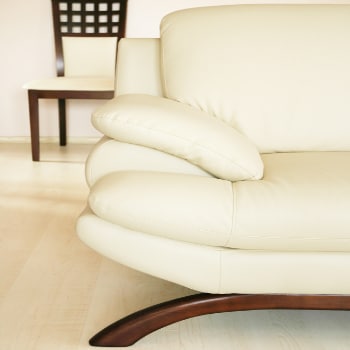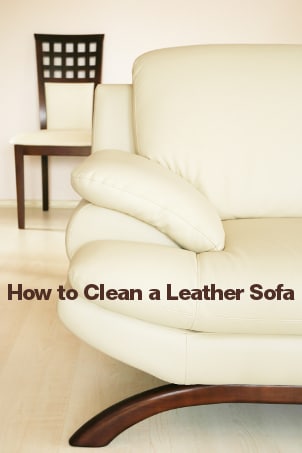 Shop Leather Sofas ▸
Things You'll Need
Vacuum with hose
Microfiber cloth
Saddle soap
Hot water
Rubbing alcohol
Cotton swab
Olive oil
Paper towels
Lemon juice
Cream of tartar
Baby wipes
Clean rags
Clean the Dust

First, use a vacuum cleaner with a hose attachment to remove debris from between the sofa cushions. Then remove dust from the surface of the leather with a dry microfiber cloth. This will remove dust, crumbs, and dirt and keep it all from being rubbed into the leather.

Attack Any Stains

Inspect the whole couch for stains. Use one of these leather stain removers to treat them. Always test any stain remover in a hidden spot first.

For ink stains on a leather couch, soak a cotton swab with rubbing alcohol and rub it on the stain the way you erase pencil with an eraser.

To remove chewing gum from leather, use a dab of olive oil and rub the spot with a clean paper towel.

For other stains, make a paste with equal parts lemon juice and cream of tartar. Apply it with a clean, soft rag, and wipe it away. Let the paste sit on the the stain for an hour if it's stubborn.

Wash and Rinse

Fill a bucket with warm water and a bit of saddle soap, which is available at most feed or hardware stores. Use a lint-free or microfiber rag. Dip your rag in the cleaning solution. Wipe one cushion at a time and use moderate pressure. Run the rag under water after cleaning each cushion to remove extra grit and grime, so you'll avoid transferring it to the next cushion. When all cushions have been washed, repeat the same process with your rag soaked in clean warm water to rinse and remove the residue.

Quick Cleaning

If you don't have time to fully wash your leather sofa, try wiping it down with a few baby wipes after you vacuum it. These are gentle enough for leather, and they usually have a pleasant smell, too.

Condition the Leather

For a very light protective finish, apply a thin coat of olive oil with a microfiber cloth, allow it to sit for one-half hour and then buff it off with a clean, dry rag.