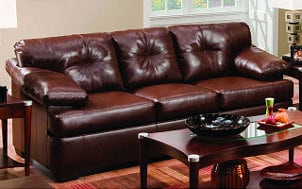 Things You Need:
Lightweight sheets
Leather cleaner
Saddle soap
Microfiber rag
Vacuum
Hot water
Cotton swab
A leather sofa is the piece de resistance when it comes to living room luxury. However, a leather sofa can become easily damaged without the right precautions and care. If your leather sofas and loveseats aren't properly cared for, they can quickly fall from decor grace. Fortunately, learning how to clean a leather sofa is simple, meaning you can keep your leather furniture clean and looking trendy for the upcoming season.
Cleaning Leather Couches:

Prevent a dirty couch. The real first step to a clean leather sofa is prevention. When company is not expected, get in the habit of keeping the sofa covered with lightweight sheets. Sheets will defend against dirt and stains. They're easy to use and go a long way in protecting your leather sofa.

Vacuum it. Before you begin, use a vacuum hose to remove debris from between the leather sofa cushions. This will remove dust and grime and keep it from being rubbed into the furniture when you clean it with commercial cleaner.

Choose a cleaner. Any commercial cleaner can be diluted with water and safely used to clean your sofa. They work best with a lint-free or microfiber rag.

Wash it. Dip your rag in the cleaning solution mixed with hot water. Wipe one cushion at a time and use moderate pressure. Run the rag under water after cleaning each cushion to remove extra grit and grime so you'll avoid transferring it to the next cushion.

Wash away residue. When all cushions have been washed, repeat the same process with your rag soaked in clean warm water to rinse and remove the residue.

Take care of stains. For ink stains on a leather couch, use a cotton swab soaked with non-acetone nail polish remover. Aerosol hairspray or toothpaste works wonders on other tough stains. Spray or dab the cleaner on, let it sit for a few minutes and then wash away with a damp rag. Make sure you dry the spot afterwards.

Deep clean. Every three months, fill up a bucket and treat your sofa to a good washing with saddle soap, which is available at most feed or hardware stores. For a very light protective finish, apply a thin coat of olive oil with a microfiber cloth, allow it to sit for one-half hour and then buff it off with a clean rag.

Buy Leather Sofas and Loveseats
Back to Guides Directory