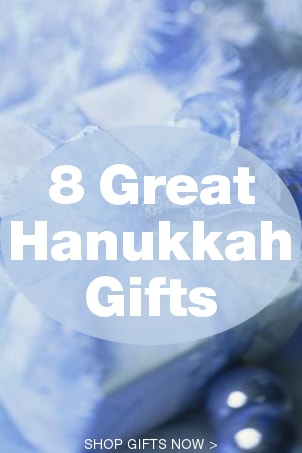 Hanukkah is a time of family togetherness, celebration, and remembrance. Symbolic of the miracle of the oil that lasted eight days, Hanukkah is also known as the festival of lights, and is celebrated over the course of eight days and nights. Most Jewish families give gifts for Hanukkah. Some choose to celebrate one day of gift-giving, while others give gifts on each of the eight days. If you are shopping for the perfect gifts, consider these ideas.
8 Hanukkah Gift Ideas:

Menorah: A traditional menorah makes a wonderful gift for the first day of Hanukkah. Celebrate the festival of lights in your own family, or give a menorah and a set of Hanukkah candles to friends and loved ones. They'll unwrap it just in time to light the first candle. The gift of a menorah keeps giving throughout the eight days of Hanukkah as the family celebrates together.

Dreidel and gelt: Traditional Hanukkah gifts will always please, and dreidels and gelt (money) are Hanukkah favorites. Surprise children and adults alike with a fun new dreidel to spin. The game is a Chanukah tradition that everyone enjoys. Gelt is another fun tradition people look forward to during Hanukkah. Give children a few real coins or chocolate coins. For teenagers and adults, a gift card is a great way to give gelt.

Gift bags and baskets: Fill gift bags with candy and small toys for children to enjoy during the holiday. Give adult family members and friends gift baskets filled with sweet and savory treats to share during the holiday, too.

Toys: Every child loves getting a new toy, and Hanukkah is the perfect time to spoil your child with that special toy they've been wishing for. You can give one large toy on the first or last day of Hanukkah, or give smaller toys as gifts for each of the eight days.

Gifts for the whole family: The Hanukkah holiday is the perfect time for families to spend quality time together. Bring your family closer by giving a gift that the entire family can enjoy. A fun board game, new DVD, or video game console gives the family something everyone can enjoy together.

Charitable donations: Giving to charity is a tradition many Jewish families like to celebrate. Buy blankets, hats, gloves, and coats to donate to charities, or look for products that donate a portion of the proceeds to charity. Your family will love knowing that their gift helped benefit someone else.

Books: Give the gift of knowledge with children's books. For small children, a picture book that helps teach them about the traditions and observances of Hanukkah will be both educational and entertaining. For older children, parents, and friends, look for books and novels that match their tastes and interests.

Electronics: Electronics are some of the most sought-after gifts for the holidays. Give wireless speakers, tablets, and cell phones to your family and friends. If you're looking for electronics gifts for the whole family, consider a flat-screen TV.

Shop Our Current Sales
Buy Gift Cards
Find the Perfect Present in Our Gift Center
See All Guides
Read More Holiday & Giving Guides
Get More Holiday Gift Ideas