5 Ways to Get the Most out of Your Air Bed
by Chandler Warnick
Air beds are becoming common household items. As air bed quality has improved over the last decade and air beds have become more comfortable and affordable, more and more families have been buying them. If you think of air beds as little more than go-to items for camping trips and out-of-town guests, chances are you aren't getting nearly as much use and comfort out of your air bed as you could. Keep reading for five ways to get more use out of your air bed.
Helpful Air Bed Tips: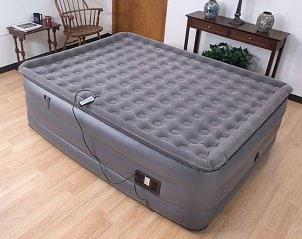 Shop Air Beds ▸
Keep your air bed handy.

You're not likely to remember to use your air mattress (air mattresses and air beds are the same thing) often if it's buried in a corner of your garage or at the bottom of a basement shelf. Keep your air bed somewhere handy, like an upstairs closet or the trunk of your car. You'll be surprised at how many excuses you'll think of to use your air mattress when you know it's close at hand.

Re-inflate your air bed regularly.

Quality air mattresses are designed to be durable and can last for years without a puncture. Nevertheless, even the best air mattresses begin to sag after a few days of use due to normal air loss and material stretch. If you're using your air mattress for more than a night or two, keep it firm and supportive by pumping air into it every few days.

Use a box spring with your air bed.

You've probably used your air bed on the floor plenty of times. Air beds function just fine inflated on the ground, but unless you have a raised air mattress, you may have noticed that getting in and out of bed is difficult when your air mattress sits low. Remedy this easily by setting your air mattress up on a box spring -- and even a bed frame if you plan to use it long term. This will raise your mattress considerably, improving both the look and convenience of it.

Put sheets on your air bed.

Nowadays, most air mattresses are topped with velvety material and sometimes even a pillow-top, which make sleeping directly on an air mattress more comfortable than ever. However, air mattresses still aren't breathable, and, besides, nothing beats regular bedding -- a mattress pad and set of sheets -- for nighttime comfort. You'll be surprised at how much a mattress pad and sheet set will improve the warmth, breathability and comfort of your air mattress.

Get a mattress topper for your air bed.

While air mattresses offer great support, they can feel stiffer than normal mattresses. Putting an inexpensive foam mattress topper, featherbed or even a cheap memory foam mattress topper on top of your air bed can elevate your night's sleep from good to great. An air bed with a memory foam mattress topper can even make a comfy substitute for a regular mattress.