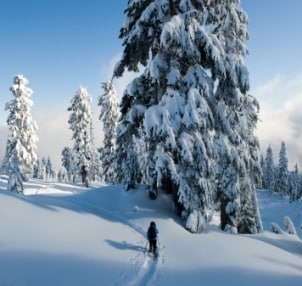 While colder temperatures and winter weather can be fun and even enchanting as holidays draw near, a sweeping cold front or an early blizzard may catch many unprepared as seasons change. Are you ready for winter?
Get Ready for Winter:

Bundle up. Start shopping for coats and boots for you and your family in the fall. That way you won't get caught unprepared when the cold and snow show up. Go through last year's outerwear and replace anything that is worn or outgrown. You may even want several different styles. Look for a casual jacket that can be worn every day, a dress coat for special occasions, and a ski or snowboard jacket for winter sports. You'll want warm coats and insulated snow boots for your kids, so they can keep warm and dry when they're out playing in the snow.

Keep warm indoors. Stay warm and save energy by covering your windows with insulating curtains. They'll keep the cold out, so you don't have to use as much energy running your furnace. Another energy-saving tip is to add throw pillows and blankets to your sofas where you can curl up and relax. An indoor fireplace, whether wood or fuel-burning, is cozy on a snowy day, and a space heater or two, although they don't save energy, can help you keep certain rooms in your home warmer during the winter months.

Think skin care. Your skin has different needs during different seasons, and the cold temperatures and running heaters can really dry out your skin in the winter. Make the switch from light moisturizers to heavier creams in the fall to give your skin some much-needed moisture. Don't put away the sunscreen for the winter; your skin needs just as much SPF protection, even on a cloudy day. Exfoliate once or twice a week to get rid of dry skin and to help your skin regenerate.

Prep your car. Get ready for cold mornings and winter driving conditions before the snow even starts to fall. Take your car to a garage for a tune-up and have the mechanics check your antifreeze levels and wiper blades. If the tread on your tires is getting low, you may want to get new tires, or even snow tires, to keep you from sliding on snow and ice. You can make your car more comfortable, too. Make sure you have a good scraper for frosty windshields. You may want to pick up a portable seat warmer to keep you toasty while your car's warming up.

Plan winter fun. The best way to survive winter is to enjoy it, so plan some fun winter activities for your family. A sledding party is fun for kids of all ages. Follow it up with a movie night and some hot cocoa. For the active family, a day of skiing and snowboarding is a great way to enjoy the snow. Start shopping for clothing and gear early so you'll be ready to hit the slopes as soon as the resorts open.
What Do You Want to Do Next?

Shop for Winter Sports Gear
Shop for Winter Toys
Shop for Winter Clothing
See All Guides
Read More Sports & Fitness Guides
Learn More about Winter Sports