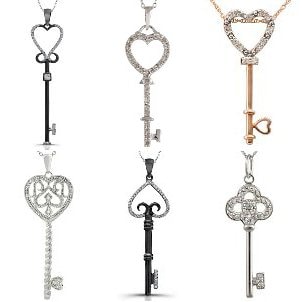 The delicate details of a skeleton key go perfectly with contemporary fashions. A key pendant offers both designer appeal and whimsy. If you're new to key jewelry, then shopping for necklaces is the perfect place to start. You'll find a delightful selection of key pendants in every size, many decorated with gemstones or crafted of solid gold. Use this guide to wear key necklaces with hip fashion sense.
Key Necklace Trends:

In layers: Models in fashion magazines are sporting layers of fun jewelry in varying lengths. Key necklaces are sweet but uncomplicated, making them perfect for layering. Try wearing three short chains at once; place a different key pendant on each chain or diversify the look with heart pendants, locks and horseshoe charms.

With length: Large key necklaces look fabulous on long chains. Oversized skeleton keys bring novelty to suits and formal dresses. To achieve celebrity-worthy style, layer your long key necklaces with beads and pearls.

Without chains: If fairytale style is your aim, then wear key pendants on ribbons. Short ribbon-chokers look amazing with petite gold keys; long ribbons can support several key pendants. Add a wrap ribbon bracelet to the mix and you can look as though you've stepped through the looking glass.

With vintage: Skeleton keys definitely have an antique vibe, making them perfect to pair with high-waist jeans, floral minidresses and super-long skirts. Every versatile retro wardrobe needs at least one oversized brass key pendant.

On beaded necklaces: If high-fashion glam is your goal, then wear key pendants on beaded necklaces. Beaded necklaces are bold, especially when pendants are added to the mix. Sport a beaded necklace and key pendant with sleek skinny jeans and a neutral top.

Buy Necklaces
Back to Guides Directory