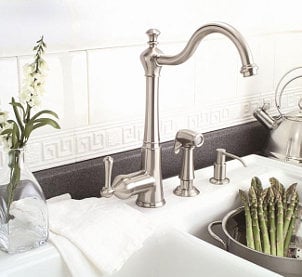 Every room has its own style and personality, which you can feel when you enter. In the kitchen and bath, a lot of that personality comes from details such as kitchen and bathroom faucets. Delta faucets feature beautiful design features in multiple materials and finishes that will punctuate the style of your kitchen or bath, whether classic or modern. Starting with a kitchen faucet or a shower head is a great way to start building your entire room decor. Below are just five of the stunning styles that Delta faucets have to offer.
Delta Faucet Styles:

Saxony: Delta kitchen faucets in this collection reach back to old farm water pumps for inspiration. The curves of the kitchen faucet head exude a feeling of the early 20th century, especially in the rich bronze finish. This is a perfect example of creative Delta faucet design.

Victorian: This style features faucets for both the kitchen and bath. With truly antique details, which work beautifully in bronze, these Delta faucets are full of ornate flourishes and textures. The finish on these bath and kitchen faucets can vary in tone, displaying an aged and weathered look. The classic theme makes these faucets ideal for matching with antique bath furniture and rustic wall prints.

Grail: Simplicity and grace characterize these Delta faucets. This collection fits more modern kitchen designs -- perfect for complementing sharp angles and conservative lines that allow the texture of the materials to make a style statement. The single-handle designs give a bare simplicity and sculpted feel to each of these Delta faucets.

Dryden: The versatile form factor of this Delta faucet collection lends itself to multiple kitchen and bath styles. Sharp angles are combined with elegant curves to create a feeling of modernity while still giving a nod to classic faucet styles. These Delta faucets will blend with nearly any decor.

Innovations: Nearly any bath style will be complemented well with the shower faucets and bath fixtures in this collection. Mixing the colors of chrome, nickel and brass gives these Delta faucets a brilliant contrast between the handles, spout and trim of each fixture. And the form factor is full of organic curves that blend between each fixture component.

Buy Delta Faucets
Back to Guides Directory