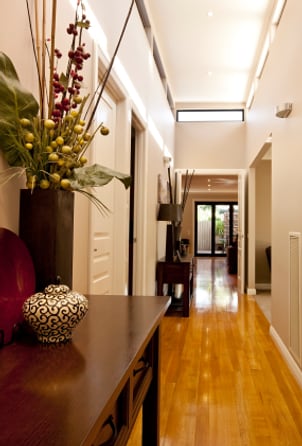 Few renovations change the look of your home as drastically as hardwood flooring. The look of hardwood flooring can range from rustic rough-finished oak to sleek dark-stained teak, with hundreds of gradations in between, so there's certainly a style of wood flooring available that will look great with the style of your home. However, the appeal of hardwood floors isn't only aesthetic. If that were so, it might be difficult to justify the expense (and wood floors aren't cheap). Hardwood floors can be a beneficial addition to your home in a number of different ways that make them well worth their price. Keep reading for five reasons that installing hardwood flooring may be the right choice for you.
Why Install Hardwood Flooring?

Hardwood flooring is beautiful. No other flooring quite matches the beauty of quality hardwood flooring. Whether you choose to go with pale, glossy maple flooring, dark oak flooring or muted, matte hickory flooring, a wood floor will transform the look of any room. A hardwood floor is beautiful in its own right, but wood flooring that is well matched to the colors and decor of your home can complement or highlight other beautiful things in your home.

Hardwood flooring increases the value of your home. When contractors are constructing a home, they consider hardwood floors to be an added cost. Likewise, appraisers take hardwood flooring into account when they calculate the value of your home. Installing hardwood flooring is, in many ways, an investment, since the value of the wood floor will come back to you when you try to sell your home. Not only is a hardwood floor valuable in dollars and cents, but it also adds to the appeal of the home if you're showing your home to sell it.

Hardwood flooring is durable and easy to maintain. Unlike carpet, hardwood flooring can last for years and years if properly maintained. Hardwood floors won't absorb dirt or wear out, so if you install wood flooring, you can expect to enjoy it for as long as you own your home. Constant foot traffic will scuff hardwood floors over time, making it necessary to periodically refinish the floors, but they won't actually wear out like other kinds of flooring. Cleaning hardwood floors is a simple matter, simply requiring a dust mop for picking up debris and a light scrubbing with water for spills, depending on the type of wood flooring.

Hardwood flooring is sometimes made from renewable resources. Bamboo flooring and cork flooring, while not strictly hardwood flooring (cork is wood -- well, bark -- but not hard, and bamboo is hard but not wood), are becoming more and more popular because they both come from sustainable resources. Bamboo is one of the fastest growing plants on the planet, and cork trees shed their bark regularly. Bamboo floors are exceptionally hard and offer a variety of looks that are similar to the look of hardwood. Cork floors need more maintenance that other hardwood floors because they are softer than regular wood floors, but they offer a look as well as a springy feel that many people love.

Hardwood flooring comes in a range of colors and wood grains. Years ago, if you wanted to install a wood floor, you basically had two options: maple flooring or oak flooring. Nowadays, however, you can buy hardwood flooring that is made from a wide range of different woods, like teak, walnut and cypress, and each different kind of wood comes in a variety of different stains that can highlight or hide the grain of the wood as well as different finishes that range from rough-hewn to high-gloss. In addition to 100 percent wood flooring, you can buy engineered wood flooring, which is wood flooring that is laminated with different layers of synthetic materials. Engineered wood flooring looks similar to regular wood flooring, but it resists moisture better, making it ideal for basements and areas of high humidity.

Buy Hardwood Flooring
Back to Guides Directory