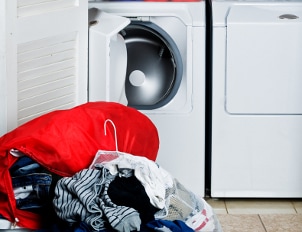 A lot of work goes into creating and maintaining a home. Thankfully, good appliances can make that work simpler. There are a few essential large appliances that you may consider for your home, or as a gift for a loved one, to create a comfortable space. Here are five home and kitchen appliances that you may find indispensible.
Popular Large Appliances:

Dishwashers: These large appliances used to be considered a luxury. But with the water savings that you can experience with an efficient automatic dishwasher, these large appliances are becoming more of a necessity; especially if your lifestyle leans toward the busy side.

Washers and dryers: It's a happy day when you can leave the laundromat behind and rely on an efficient washer and dryer set to get your clothes consistently clean. You'll find high-capacity and energy-efficient large appliances that feature some surprising features among modern laundry machines. The only question left may be whether you prefer natural gas or electric large appliances for your home.

Portable air conditioners and heaters: Why adjust the thermostat for the entire house when you can heat or cool one room individually? That's an energy-efficiency question that can be answered with large appliances, such as portable heaters and air conditioners. Control the climate in a single room to your preferred temperature. Smart large appliance purchases like these can save you hundreds on your yearly energy bills.

Microwaves: It may be time to replace that old microwave you picked up at the garage sale. Or perhaps you just want an under-cabinet model to match the rest of your large kitchen appliances. Either way, a microwave is one of those large appliances that are often used more frequently than the oven.

Ranges and ovens: Certain large appliances help make you feel at home by helping you cook up some comfort food. Amateur and expert chefs alike can appreciate the durability and control of quality large appliances like ovens and stovetops. There are a large variety of ranges available, including induction, gas and electric coil models. And an oven with reliable, even heat can make the difference between a fallen cake and a culinary masterpiece.

Buy Large Appliances
Back to Guides Directory