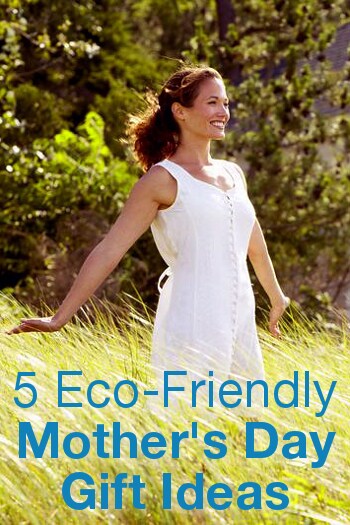 SHOP MOTHER'S DAY GIFTS NOW >>
Your mom loves nature and respects the environment. For Mother's Day this year, the perfect gift for her will be not only something she'll love, but something that is eco-friendly as well. For a mom who wants to reduce her carbon footprint and save the planet, here are a few low-impact Mother's Day gifts she'll love.
Eco-Friendly Gifts for Mom:

Buy her gifts she can reuse. Everyday items like grocery bags, coffee cups, and water bottles create a lot of waste, especially if you don't have the right recycling facilities in your area. If your mom's interested in reducing waste, think about making her daily routines easier and more eco-friendly with gifts she can use and reuse over and over. Reusable grocery bags cut down on waste and hold more groceries than plastic bags, and reusable coffee mugs and water bottles keep disposable waste out of the landfills.

Choose organic options this year. Mother's Day is one of the biggest holidays for giving flowers. Treat your mom this year with a bouquet of organic flowers grown without chemicals and pesticides. A box of organic, vegan chocolates or cupcakes is perfect for the mom with a sweet tooth. For the busy mom who juggles work and family, a gift basket loaded with all-natural spa products gives her everything she needs to pamper herself. If you're short on time, look for an eco-friendly spa in your area and pick up a gift certificate.

Make a charitable donation. A mom who cares about the environment cares about making a difference. Why not make a charitable donation in her name for Mother's Day this year? The non-profit environmental and wildlife charities that work to preserve and protect nature are always in need of donations. Around Mother's Day, many stores even donate proceeds from certain gift items to charity.

Make her handmade gifts. One of the easiest ways to go green is to give handmade gifts. Search your closet or local second-hand store for items you can up-cycle into the perfect gift for Mom. Bake some vegan cookies or knit her a scarf using eco-friendly or recycled yarn. When you choose handmade, you reduce the amount of resources used in the production of new products. If you're not the DIY type, shop for handmade and recycled gifts online.

Choose something you can do together. An eco-conscious mom will know that some of the best, and most earth-friendly, gifts aren't material things. Skip the mass-produced gifts and take her for a hiking or camping trip instead, so you can enjoy nature together. She's bound to love any gift that lets you spend time together, like tickets to the theater, an art exhibit, or a local baseball game. You could even attend a yoga class together or hike to a place where you can put your yoga mats down and observe nature while you do a few sun salutations. While you're enjoying time together, you're also helping to save the planet.

Shop Gifts & Flowers
Shop Mother's Day Gifts
Find the Perfect Gift in Our Gift Center
See All Guides
Get More Mother's Day Gift Ideas
Learn How Overstock.com Is Going Green
Published March 2, 2012
Updated February 27, 2015