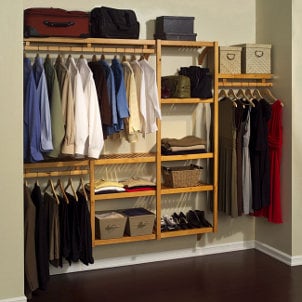 When closet space is at a premium, closet organizers can help you make the most out of your closet space. After all, often times you have plenty of closet storage space, just no way to organize that space to allow it to fit all your clothing and accessories. Closet organization systems are a great way to keep your closet neat and clean and keep your clothes and shoes organized and protected. Here are five different kinds of closet organizers you can install in your closet.
Five Closet Organizers:

Wire closet organizers: Wire closet organizers are popular because they are lightweight, usually comparatively simple to install and inexpensive. A standard wire closet organization system will have a long top shelf and hanging space for all your shirts, dresses or pants, as well as a set of shelves in which to organize items like sweaters, belts, shoes and other accessories.

Wooden closet organizers: Closet organizer systems made of wood are both very attractive and very functional. Wooden closet organizers usually take a little while to assemble, but they're designed to last as long as your closet. You can find wooden systems that have are made from sturdy pressboard with a wood veneer or ones that are made from solid hardwood.

Sliding closet baskets: Wire baskets that mount against the back wall of your closet and conveniently slide in and out can be used for a number of things. The most obvious closet organization bonus of a basket like this is that you can toss your laundry into it. When it's full, you can simply slide the basket out of your closet and take it to the washing machine. If you don't need a place to put your laundry, you can still use closet baskets to store folded sweaters, scarves, hats and gloves.

Closet towers: It may be that your closet is big enough; you just want some shelves or cabinets in which to organize your clothes and accessories. If this is the case, you may want to take a look at closet towers. Closet towers usually must be bolted to the wall, although some are free-standing, and they either are filled with shelves or may even have shelves on the bottom and a cabinet on top. Either way, a closet tower is a good way to enhance your closet storage space without overhauling your entire closet.

Closet shoe cabinets: Shoes are wonderful, but they sure can make a mess out of an otherwise well-organized closet. If you have your clothes under control, but your shoe collection seems to be spilling across the floor of your closet, consider buying a shoe cabinet for your closet. Shoe cabinets can be used to store whatever you want, but they're designed in a way to allow you to store a lot of shoes in an organized way.

Buy Closet Organizers
Back to Guides Directory