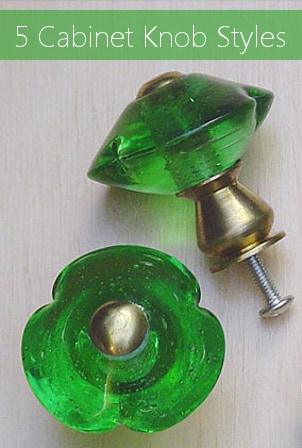 Though cabinet knobs are small, they make quite a difference in the appearance of your cabinets. Because cabinet hardware is so striking, even the most carefully planned kitchen decor can be thrown off by ill-matching knobs. Knowing what your options are when you're shopping can help you choose the hardware that go best with your decor.
Choose Your Hardware:

Ceramic and glass cabinet knobs: Ceramic knobs and glass knobs can both add to a classic look. Ceramic knobs usually come in glossy white, like porcelain, and look both classic and rustic. They're well-suited for traditional and country-theme kitchens. Glass knobs often come in clear, faceted glass, but colored glass knobs are available, too. They have an ornate look and work well with kitchens with Victorian themes or other classic ornate themes.

Plain cabinet knobs: Plain kitchen knobs, ones without any filigree or stamping, are one of the most popular knobs available today. Plain knobs come in a variety of different shapes, though round knobs and square knobs are the most popular. Plain kitchen knobs go especially well in kitchens with simple contemporary themes. However, if you like the look of plain knobs and you want to install them in a kitchen with a more classic or country style, then look for some in antique finishes, like oil-rubbed bronze or cast iron.

Ornate cabinet knobs: Ornate knobs come in a wide range of different styles, from knobs with simple raised circles to pulls with elaborate vine motifs, making them one of the most versatile styles you can buy for your cabinets. Knobs with simple designs can be a good way to strike a balance between a simple modern look and a decorative classic look. Ornate knobs with elaborate designs can help give a kitchen a classical style.

Elongated cabinet knobs: Some people prefer cabinet handles because they're easier to grab than some cabinet knobs. However, cabinet handles aren't as simple to install as knobs. Elongated knobs give you the convenience of a knob with the comfort of a cabinet handle. They only have one anchor to screw in, but they have a lot of surface area, making them easy to grasp.

Decorative cabinet knobs: Decorative knobs featuring a specific motif are often a great way to put a finishing touch on theme decor. For example, cabinet knobs in the shape of a cluster of grapes or a sun could go very well with a Tuscan-theme kitchen. Apple-shaped cabinet knobs would go well with a cheery country kitchen theme. Sports-theme hardware could work in a home bar area.
What Do You Want to Do Next?

Start Shopping for Cabinet Hardware
See All Hardware
See All Guides
Read More Home Improvement Guides
Learn More about Hardware