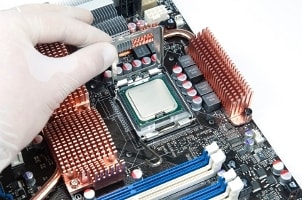 Buying a brand-new computer is exciting but not always practical. Fortunately, you can upgrade the computer hardware on your existing desktop computer or laptop to boost performance and save money. Here are five components that can give your computer more speed, storage space and new capabilities.
Upgradeable Computer Hardware:

RAM: Your computer uses RAM, random access memory, to perform functions and operations. More RAM allows your computer to perform more tasks simultaneously and run faster. You can boost performance by installing additional RAM or replacing the existing computer hardware with larger memory sticks. RAM is easy to replace on a desktop, but you may have to check your user's manual for instructions to add or remove RAM on a laptop.

Hard drive: Hard drives on most laptops and desktop computers are modular and can be easily swapped for a faster model with a larger memory capacity. With a larger hard drive, you can store more programs, music and photos. You can even install more than one hard drive in a desktop computer to expand storage or back up files.

Optical disc drive: Upgrading to a new DVD burner or a Blu-ray disc drive will give your computer new capabilities. An optical drive is easy to install, and you may even be able to install multiple drives on the same desktop, with one drive as the master drive and a second as a "slave" drive.

Processor: Your processor has a large impact on the speed and performance of your laptop or desktop computer. It's also a very simple component to change. Before you choose a new processor, however, check the processor socket type on your computer's motherboard. Your new processor needs to match that socket type to be compatible.

Video card: Graphics processing units, or video cards, are for computers that handle heavy image processing in video games and 3-D rendering software. A new video card can boost the graphics processing ability, allowing you to play the latest games or use your computer as a high-definition entertainment center with your HDTV.

Buy Computers
Back to Guides Directory