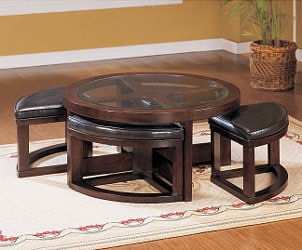 Patterned area rugs simultaneously add style to your home and protect your floors from wear, making them a smart choice for any room. Decorating with a printed rug can seem like a big commitment, but there is actually a lot of versatility when it comes to patterned area rugs.
Best Area Rug Patterns:

Chevron stripes: Zigzag stripes in bold colors form the newest trend that's popping up everywhere in stylish homes. This strong pattern should be paired with simple furniture and solid accent colors to avoid overwhelming a room. For a retro feel, try pairing a black-and-white chevron rug with a red couch or a yellow lacquered table. For a more subtle look, pick a cream-and-beige striped chevron rug that will work well with leather couches and solid wood furniture.

Floral print: Perhaps the most classic pattern, a floral print often pops up on Oriental and traditional-style rugs. This type of area rug works well in a formal living room and can add a sophisticated look to your home office. Modern floral print rugs set nature-inspired shapes and silhouettes against a solid background for a clean look that is simpler than classic floral rugs. To create a calm space in your bedroom, try an area rug with the outline of slender leaves set against a pale background to bring in color without being too bright.

Geometric shapes: For another option when decorating a modern room, try area rugs with a geometric print. These angular patterns look best when paired with solid-colored furniture, like a white leather couch. Since there is a lot of pattern in a geometric rug, keep all wall art and decor simple. This way, the rug can act as a makeshift art piece as it protects your floor.

Kids' themes: Area rugs made to decorate children's rooms come in a variety of styles, so whether you intend to decorate your child's room with a singular theme or want a simple rug that can last through numerous style evolutions, you'll be able to find an area rug that fits what you're envisioning. If you plan on using a rug for years, pick something with abstract patterns and gender-neutral colors. For trendier rooms, choose big patterns, like flowers or basketballs.

Textured pile: If you're worried that a patterned area rug might compete with your existing art and furniture, look for area rugs with textured pile. These rugs use different lengths of woven fibers to create multidimensional patterns using the same color. A neutral-colored area rug with a faint animal print will instantly add elegance to your formal dining room, and a diamond-weave rug lets you mix patterns if you have a printed couch or chair in the living room.

Buy Area Rugs
Back to Guides Directory