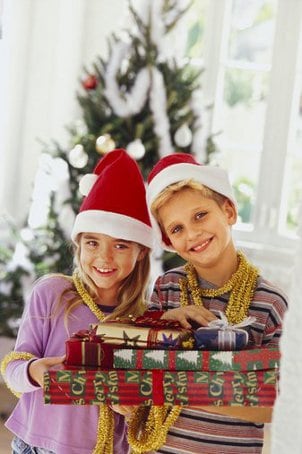 There are plenty of activities and traditions to enjoy around the holidays, but being with family and creating new memories are what mean the most this time of year. Whether you inherited your parents' holiday family traditions or formed your own, try finding new ways of creating meaningful family fun this season.
10 Fun Holiday Ideas:

Holiday reading: Try a literary twist on the advent calendar by reading a holiday story every night as a family. Each member of the family can take turns choosing what they would like to read. If you can't finish a chosen title in one night, break it up over several readings.

Holiday crafts: Turn your Christmas tree into a family photo album by making homemade ornaments featuring snapshots of you, your kids, and other family members. A few green pipe cleaners can be fashioned into mini Christmas trees. Use an empty jar and glitter to create a homemade snow globe.

Toys for charity: Take your children shopping for toys they can donate to charities, such as Toys for Tots run by the U.S. Marine Corps Reserve. You can get your children into the giving spirit while you entertain them with toy shopping. It's something your children will always remember.

Decorate together: Get the whole family involved in the holiday decorating this year. Everyone can help trim the tree and hang lights, and a few homemade decorations are fun, too. You can even give the children their own trees to put up in their bedrooms.

Sweet treats: What would the holidays be without sweets? Get the whole family involved and bake some cookies for Santa or teach them your favorite family recipe. Pick up some holiday-themed cookie cutters or build a gingerbread house your kids can decorate.

Letters to Santa: Have your kids been naughty or nice? Either way, they'll love writing a letter to Santa to tell him themselves. Let them use stamps, markers, and stickers to decorate and personalize their letters this year.

Holiday music: Nothing gets you in the holiday spirit like music. Pick up some holiday CDs to play throughout the season, or have your children pick their favorite holiday song and create a custom CD to listen to.

Secret Santa: Have each family member draw a name of another family member and assign them as their Secret Santa. Have each Secret Santa give one gift, or several small ones, to the receiver during the month.

Caroling: This holiday tradition is always a fun way to get your family together. Bundle up and go caroling through your neighborhood. You can finish the night with some hot chocolate and baked treats to get warmed up again.

Homemade cards: Gather some holiday-themed craft supplies, like paint, glitter, and colored pencils, to create custom cards for your family and friends. Kids can get involved and make cards for their friends. You can even cut the cards into festive shapes, like trees or snowflakes.
What Do You Want to Do Next?

Shop Christmas Decor
Shop Holiday Music
Shop Christmas Craft Supplies
See All Guides
Read More Holiday Guides
Learn More about Parties & Decorating