Overstock.com Mobile Apps
With the Overstock mobile app, you get all the benefits of shopping on Overstock.com, plus the convenience of being mobile. Every item on our traditional website is on the mobile apps, too. You can read the same customer reviews, checkout is secure, and you have the support of our award-winning customer service team. And just for mobile shoppers, we offer a daily discount that you can only access through the shopping app.

To get started, simply install the free Overstock app. Whether you're at home or out and about, you can compare prices, save money, and shop smarter with the Overstock.com shopping app.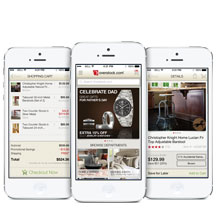 iPhone, iPod Touch

Compatibility: iOS 7.0 or greater.

Devices: iPhone 6, iPhone 6+, iPhone 5s, iPhone 5, iPhone 4, iPhone 4S, iPhone 3GS, iPod Touch (3rd, 4th, and 5th Generations).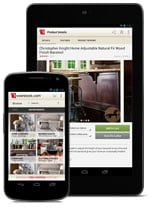 Android

Compatibility: Android 4.0 (Ice Cream Sandwich) or greater.

Devices: Galaxy S5, Galaxy S4, Galaxy S3, Galaxy S2, Galaxy Note, Galaxy Note 2, Nexus 4, Droid RAZR, Moto X, HTC One, HTC EVO 4G, Kindle Fire HD, Asus Transformer, Nexus 7, Nook HD, Galaxy Tab 2, Galaxy Tab 3, Galaxy Note 10, Nexus 10, and others.