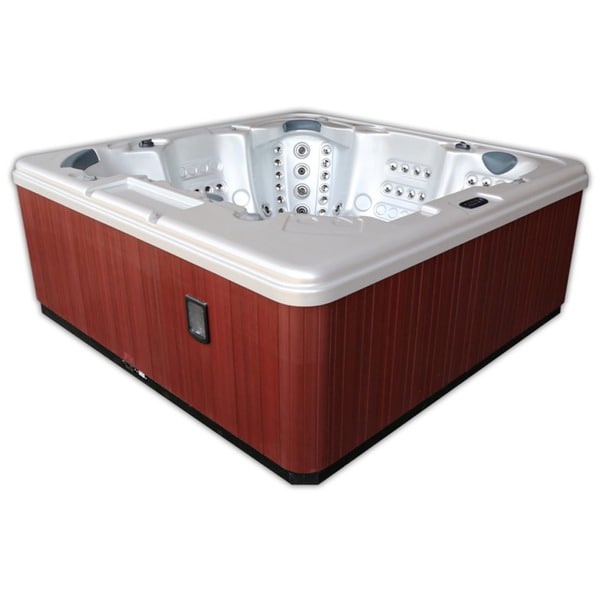 I have had the tub for about 3 months, and couldn't be happier. There we some shipping delays (a week or two), however Overstock went out of their way to keep me posted on what was going on. The tub was delivered, and set into place with no problems, and works like a charm!! Highly recommended
...
Home and Garden Spas 5-person 104-jet Hot Tub
by Red Labeled
Details
ITEM#: 13019546
Unwind with a well-earned soak in this Home and Garden Spas 5-person hot tub. Featuring an acrylic slip-resistant surface, this tub allows you to step into the heated water with confidence. This 5-person hot tub is constructed from multi-layered fiberglass and includes over 100 jets at various heights to leave your whole body feeling relaxed.


Single-vessel system
Seats: 5
Jets: 104 including 4-7 jet massage inserts
Neck and shoulder jets
Calf and foot jets
Comfort cushion headrest
User-friendly system controls topside
Speakers/subwoofer located inside shell above water line
Low energy consumption
Deluxe cover 4 inches to 2 inches
Durable, slip-resistant acrylic surface
High-density foam insulation with sub-zero thermal wrap
Interchangeable therapeutic water jets
Multi-layered fiberglass
Quality heat-retaining synthetic cabinetry
Requires 220-volts/50 amps dedicated service
Dimensions: 92 inches wide x 92 inches long x 36 inches high
Standard features
Mp3 auxiliary with two (2) speakers and a sub-woofer
Stainless jets
Two (2) 6hp pumps
Ozonator
9-colored led lighting
Warranty
2 year parts warranty
90 day labor warranty
5 year surface and shell warranty
10 year structural
This item ships using Backyard Delivery Service. Delivery placement must occur within 50 feet of the delivery truck. The pathway must be free of obstacles and cannot involve more than one step to ascend/descend. The delivery area must be level to accommodate a minimum two-man crew safely transporting the package from the truck to the backyard location.
Specs
Features
Number of Jet
Over 100 Jets
Assembly
Assembled
Hot Tub Capacity
5 person
| | |
| --- | --- |
| Dimensions | 92.0x92.0x36.0 |
| Warranty | 2 year Limited Manufacturer |
| Model Number | LPI104X12 |
| Country of Origin | United States |
Most Recent

I have had the tub for about 3 months, and couldn't be happier. There we some shipping delays (a week or two), however Overstock went out of their way to keep me posted on what was going on. The tub was delivered, and set into place with no problems, and works like a charm!! Highly recommended

Read More

Nice Hot Tub - a few things to note

We got this hot tub and have used it for around 3 weeks now. There are a few things that I found to be disappointing but I would still recommend the hot tub. #1 - Speakers are in the side of the hot tub and the switch for the speakers say to not use them when the hot tub is in use. The water normally goes above the speakers when we are in it, so we can't hear from the speakers anyways. Don't buy this hot tub thinking you will be listening to the music while in the hot tub, you will have to get a different speaker to do that. #2 - The "waterfall" is not very impressive, it is 2 holes on the top of the side that I guess could make a "waterfall" since the water is falling but it isn't much of a waterfall, so don't get your hopes up for much of a waterfall. #3 - Bromine as a chemical did not work for us, the water kept turning green after a day or 2, it was just a green hue but was completely clear. We switched to using Pristine in it and have not had any other problems with it. The other nice thing about using Pristine is that it only has to be done every 2 weeks and there is no floater in the hot tub like there was with Bromine. None of these are deal breakers for us on the hot tub but I was disappointed with the speakers, waterfall, and whole Bromine situation. I just wanted to note those, otherwise this is a great hot tub!

Read More

Easy to install and an amazing price! We are so happy with this item. It has 104 jets, great options (like the in-spa audio system), and is beautiful as well. We've recommended it to so many people. Great find!

Read More

'Love the hot tub. Overstock needs to get qualified companies to deliver, however. The hot tub sat for weeks with the delivery person, whose excuse was, that the item was very big. Well, maybe he should have thought about that before he received payment to deliver it. When they finally arrived, the group did not seem all that professional who moved the hot tub to the back yard. That said, I will repeat that I love the hot tub!

Read More

Really Happy So Far - I Wish I Had This Review

Ok, I've been waiting to write this and didn't want to add it too soon. WE LOVE IT!!! That being said, here are the good, bad and uglies on the product and overall purchase experience. We were hesitant about spending $$$$$+ over the internet. We're now very happy we did, instead of buying a comparable tub for thousands more from a spa store or local dealer. So, this hot tub is resold under a few names, Home and Garden being only one. It's basically manufactured by *** out of *********, ** They are not hard to find (********************************). It is an LPI/Dr. Wellness X-12. The Dr. Wellness name has been around for a long time and has always been rated well. I found these guys had 10's across the board on one rating site. Anyway, the reviews on Overstock were pretty good, with exception of a few that were pretty bad. Some said the spa was terrible and had arrived with all sorts of problems, cracks, cuts, etc. Some went on to say that cust support was terrible and even non-existent. I then did quite a bit of my own research before finally ordering. I totally agree with one poster. If you are handy and can pull the covers and check everything before you hook it up, you will love this spa. If you are a shmutzel with zero common sense, you may have some problems. Ok, ordered the tub and emailed some questions to *** right after placing the order. National Sales manager, ****** *****, responded right away on several occasions. The tub arrived about a month after placing the order. I was able to track it via the shippers online tracking system. When it was in transit, I called the local delivery company who had no idea how big this shipment was going to be. It is DEFINITELY a 4 man job. I got gold service which meant they would deliver it, move it to the back yard onto it's final resting place, and cart the packing material away. Check delivery for your order and call the local delivery ahead of time to make sure they know it's over 1000 lbs. Make sure there is a clear path to the resting spot. When it was delivered, there were several cracked pieces to the cabinet. I read the reviews and expected that . Billy and Ray in support were available every time I called and send the replacement pieces right out. Shipping of those was a little slow, but, OK. The cabinet material is VERY brittle and will crack if screws are too tight. After delivery, I opened up the cabinet and checked all the connections. I could see that they had been inspected for leaks as each connection was marked with sharpie. There was a lot of saw dust, cut wire, cut PVC, etc in there. I swept it out and good to go. The MP3 power switch was flopping around in the protective box, but I put a little glue on it and it's fine. Filled it, turned it on and let it heat. I used hot water so heating time was minimal. It ran like a trooper without any leaks. Jet's are awesome, stays hot even when we're in it for an hour or so. Would like the lights to be a little brighter. The manual is not intuitive at all on some programing things. I called support and got the answers. Bottom Line... Great value for the money. It's rated for 5 people, however, you can easily sit 7. We are very happy and use it every night. Expect some shipping damage, check the connections and you should be good to go. Support will help if needed. I would totally recommend this hot tub to anyone thinking of getting it.

Read More
Most Helpful

This hot tub is great, it has a lot more jets than my previous tub and is very therapeutic, we use the tub 4-5 day out of the week. We hooked the up power, filled the tub and hit the power on button and the tub started and has worked perfectly. The only problem that I have had product is some of the stitching on the cover came loose and the hold down strap came loose from the cover, I contacted the cover mfg and they offered to fix the cover no problem after the warrant form was filed. The other problem that I had was the delivery of the tub, the freight company's truck was to small to fit the hot tub in first time, the second time the lift gate broke when they got to my house and they couldn't unload the tub and the thrid time never showed up. I contacted customer service and they took care of the problem and compensated me for all of the problems and my time and then tub was delivered on time without damage.

Read More

took the gamble on such a high price order over the internet. The spa hasn't disappointed. Like other reviews about this product has mentioned, you need to have a crew ready to place this tub in position. It took 8 people for me to fit it under my patio, We had to roll the tub on its side, which caused the cabinet to buckle and crack on the corners. Had to drill a hole in the cabinet to run the electrical wires. The instruction manual is in cd form, inside the cabinet,and helped a lot. Once the tub was filled and heated, all the work seemed to pay off. Nice features, the waterfall, shoulder jets, and stereo all work fine so far. THe LED light seems a little dim. Overall very happy and would take the gamble again

Read More

We love our spa for the jets and hydrotherapy. It adjusts to many High and low settings and the MP3 player works well. Electric is not much so far. The insulation is not what we expected. It is only a spray on coating so I am concerned when it gets cold in upstate NY. The lighting was nice until we just noticed it is not working at 4 months old and the warranty was 90 days. Make sure you have help unloading and setting it up, especially with the 220 wiring. Since it is really Laguna Bay spa I will call them Monday and they have been responsive by phone.

Read More

This is a great hot tub for the money. Take a look at the competitors and you will find this one (through Overstock) costs thousands less. We initially ordered the model below this and were not satisfied. Due to issues with that model, we returned it and ordered this one. Even though this has more jets and the same pumps as the lesser model, the power is directed more appropriately and the jets are more effective. It comfortably fits our family of five. The MP3 jack is a nice plus (good sound to the speakers). We are very happy with our purchase. It is definitely worth paying the extra $1,000 to upgrade to this model. It was also worth purchasing through Overstock who has a customer service department that is second to none. A couple of things to note (easily fixed so I did not ding them on the rating). Our speaker wire had to be wiggled to fix a loose connection that was causing distortion (simple fix). The manufacturer forgot to plug the light into the power panel (simple fix). Some of the exterior panels came damaged (Overstock was great to work with on getting the replacements). Also note that the exterior tongue and grove panels are stapled from the back side into nailing strips. During shipment, the panels vibrate lose from the nailing strip and have a tendency to slip out of place. When our replacement panels come, we will take all side panels off and refasten the panels. A little nuisance, but again, this is a great hot tub and that should not dissuade you from getting it.

Read More

With 2-6HP pumps and larger water capacity this tub will give more bang for your dollar. Don't be fooled by a 6 person tub that's cheaper yet smaller by 100 gallons unless you enjoy be packed in a sardine can. The lounge in this tub will accommodate a 6 foot man easily!

Read More
What are the weights of this tub both empty and full? How man gallons of water does it hold

Can I get a cover with a lift? My current hot tub claims to be 104, but it never stays warm enough for me. After 20 minutes uncovered, it's down to 101-102. Will this hot tub do a better job of maintaining temperature. I live on the Pacific Coast, so it's typical in the 60s year round when I use the tub.

Can I get a cover with a lift?

Is this tub GSI breaker protected build in

Not, that's a function of your electrican at your circuit panel. He will also need to install a quick release shut off no closer than 5 ft from jacuzzi according to CT stds.

Does this spa include jets and a blower?

Hot tub comes standard with MP3 auxillary hookup (2 speakers and sub-woofer), 7 color LED light (underwater and 12V), built-in waterfall, stainless jets, and factory installed ozone sanitation system; equipped with 4.0KW stainless heater. Includes four 2-inch deluxe hard covers with marine grade vinyl skin and safety snaps for each side. Other features include: user friendly topside controls, foot and shoulder jets, and therapeutic water jets.

Does this hot tub come with the led lighting and the MP3 hookup?

This item features a MP3 auxiliary output with 2 speakers and sub-woofer. It also includes 9 Color LED lighting as well.

How many gallons capacity?

This item can hold approximately 450 pounds.

Does this spa have a 24 hour circulation pump? Can it be converted to a salt water chlorine generating system?

The spa has a dual speed pump which will circulate teh water 24 hours in low speed. The spa can be converted to a salt system but it is can't be done from the factory. It will need to been after being received.

Can you please tell me what color the cabinet is. Is it gray? I want to order steps to match the cabinet. I was looking at item #12714284 and want to make sure it matches.

Hello ldyeab, the tub color is "glacier white," which is a pearlescent white finish. The outside cabinet of the tub has a brown finish. We recommend item # 12714285, which is a similar step, in a matching color tone. I hope this information helps. Thanks for shopping with us!

What filters do I order for this jacuzzi?

Hello Wyld1, we do not currently have the filters available on our site. You may be able to find them at your local hardware store. Thanks for shopping with us!

What is the frame size (not HP) of the pumps? What company manufacturers the control pack? And who will do the repairs and pay for them if there is a problem with the spa during the warranty period?

Hello smartgirls, we are unable to disclose the manufacturer of some of our products; however, Overstock.com stands behind every product we sell. When necessary we can contact suppliers if a product issue arises. Thank you for shopping with us.

Does this come with a cover?

Thank you for contacting us, annemk. Yes, the cover is included. Please let us know if you have any further questions.

What are the specifications of the ozone system? Is it a single vessel, dual, or 3 vessel system?

Thank you for contacting us, maxwell. This is a single vessel. Please let us know if you have any further questions.

What is the temperature range?

Thank you for your question, brissa. The temperature range for the Home and Garden Spas 5-person 104-jet Hot Tub is maximum 104 degrees. Have a great day.

Do u deliver on Saturdays?

Hello antni075, please see our shipping and returns tab. Thanks for shopping with us!

What color is the exterior cabinet and what color is the interior?

Hello antni075, the color or the exterior of the cabinet is brown or a wood color, the interior is the same as the interior of the tub. Thanks for shopping with us!

Is there an easy access panel for maintanance? What side is the electrical stuff and the drain located? For example, if it was on the side with the user controls, could you give further detail to if it was on the left, center, or right part of that side.

Thank you for shopping with us indalay21. The access and electrical panel are on the same side and that is the same side as the filter basket or foot of the lounge seat. The drain plug is on the opposite side of the things, the same side as the head of the lounge seat. Have a great day.

I'm thinking about purchasing this hot tub. Will the shipper walk the tub into my backyard and place it on my concrete pad?

Hello nick007007, Thank you for inquiring about the Home and Garden Spas 5-person 104-jet Hot Tub.Your answer is yes. When you place your order ask for white glove delivery. Select oversized items are shipped with White Glove Delivery. Items that include this service will be noted accordingly in the Shipping & Returns of the product page. White Glove Delivery includes the following services: Inside placement of items, up to two flights of stairs Unpacking Debris removal Limited placement of the item Up to 15 minutes of the services described, with no use of tools Thank you for shopping with us.

Overstock, it doesn't say that white glove service is available for this product. now what?

Hello nick007007, I apologize that this item does not specify white glove delivery. Depending on the carrier, you may be able to request Special Delivery options such as upgrading to White Glove Delivery or other Delivery Services. To see if special delivery options and services are available in your area, call our Customer Service at 1-800-THE BIG O and request a transfer to our Oversized Item Delivery Team. Thanks again for shopping with us.

Read more Read less

Without being able to go out and turn one on to test it for all the questions that we receive, the pump is said to be no more loud than any other pump out there on the market today. Its not a whisper quiet pump by any means but is enough that you can enjoy your hot tub at home. Thank you for your business.

Had a few questions: 1) I understand the factory offers a prozone salt system purifying system is this included with the purchase of the spa and if not, how may I go about having this as an added feature? 2) Does this include perimeter LED lighting 3) What type of waterfall is it? 4) Are there more photo's of this spa? 5) Does it come with a cover lifter and if not, how may i go about getting this upgrade? Look forward to hearing from you asap as we are making our decision soon!

Hi luv2shop50, we were able to verify with our support team. Unfortunately we are unable to offer the salt water purifying system option. We apologize for the inconvenience. This item does not include perimeter lighting. The item has a dual water fall system. It is the stream system that is located on each side of the filter basket. Unfortunately we do not have additional pictures of the unit nor does it come with a cover option.
Shopping Tips & Inspiration
Shipping & Returns
Shipping:
This product normally leaves our warehouse within 4 - 6 Weeks. *
1-4 week delivery after the item ships:**
Delivered by freight carrier. See Oversized Item Delivery Policy.
Oversized-Item Return Policy:
Upon delivery, if you notice any damage or defects, you must note them on the shipping receipt and refuse delivery. Notify Overstock.com immediately in the unlikely event of damage. More Details
NOTE:
This item cannot be shipped to Alaska or Hawaii. More details
Oversized Item Delivery Policy:
This item will be shipped via freight carrier to your home, excluding rural routes, remote areas not in close proximity to areas commonly serviced by freight carriers, islands, APO/FPO addresses, P.O. Boxes, Alaska and Hawaii. Please provide your daytime and evening phone numbers during check out so our carrier can contact you to schedule delivery. Refer to our Oversized Item Delivery Policy for additional information.
More details
For your protection, all orders are screened for security purposes. If your order is selected for review, our Loss Prevention Team may contact you by phone or email. There may be a two business day delay to process your order.
** Most Oversize orders are delivered within 1-4 weeks. Some orders may take 6 weeks to be delivered.