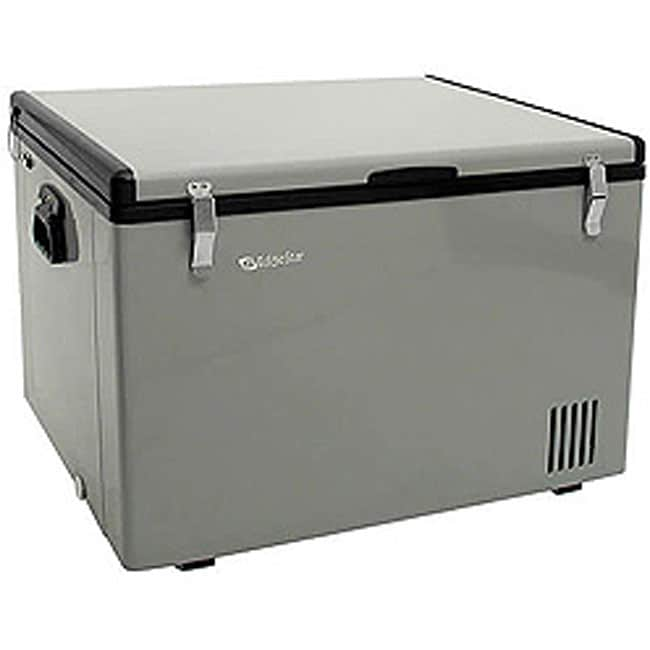 It may be a bit early. I bought it here. I picked up the 4 year extended warranty. It is the type of electronic item that can fail so wanted the extra coverage and Overstock's warranties are some of the best out there. I also had a 10% off special and that applied to the warranty. Overall the lowest prices including shipping on line anywhere was beat by approx 60 dollars if you were looking for another 4-5 year warranty. In otherwords I paid the going lowest price and got the warranty for 30.00. We let the item sit on even cement pad for 24 hours before trying it out. It hit the temp we were set to within half an hour. We turned it off and the next day we tried a colder temp and again it went right to it. Then we had reason to set it up for approx 3 days at 40 degrees to use as a fridge. It held it right on. Occasion over shoot up and down but basically it was right on the money. We put a fridge thermometer inside and it looks like it's running nice. IT IS QUITE. At least this unit is amazingly quiet so far. Some reviewers on other sites complained. Our intention is to run it in the car by 12V. Also set it up for tent camping with a 12 volt battery and a solar recharger for summer time. And on occasion it'll make a great back up. The size and weight is heavy pay attention. But I'll load the baskets then place them into the chest. Our main purpose of use will be to use in car as we are 90 miles away from major shopping and 164 to reach a city of any decent size. So this well help us bring back cold and frozen food items year round. We have a small SUV and will take out one half of the split back seat and set it in sideways. Not a lot of room. but enough. Will store it in garage most of the not in use time. I will look into seeing if the lid needs to be left ajar to prevent funky odors. Often it's a good idea with refridgerators and freezers of any size. I would recommend but it's expensive despite being one of the least expensive models or brands. Main failures of this item is the 12Volt Plugs. Both the male ends some reviewers mentioned replacing via plugs or whole cord units from Radio Shack or similar. We are electronic savy so decided it wouldn't be an issue. Also another complaint from a few reviewers is it sometimes seems to get set at one temperature and won't allow you to choose warmer or colder. I recommend unplugging and allowing it to come back to room temperature and then after a respectful amount of time say 12-24 hours unplugged and warmed up...try pluging it in and reseting the temp to the colder or warmer one you wanted. Some electronic's respond to this reset technique. Usually Overstock does not allow one to return to add more information at a later date or updates so I know I'm jumping the gun and will wait at least 6 months to turn in a review on another popular site where they allow anyone to do so. Here is to Happy Road Trips.
...
EdgeStar 63-quart Portable Fridge/ Freezer
by EdgeStar
Details
ITEM#: 11587625
Keep your food and beverages handy with this portable fridge/freezer from EdgeStar. This fridge/freezer's reversible door option for left- or right-door entry provides versatility, and the two removable wire baskets and large capacity are perfect for packing items whenever you go on an impromptu road trip. Easily manage how cold you keep your food with the adjustable temperature control.
This fridge-freezer comes in a compact size that fits neatly in your trunk or car and is easy to transport thanks to its lightweight design. With its gray metal color scheme, this portable fridge-freezer provides modern flair.

According to Federal Law Magnuson-Moss Warranty Act (P.L. 93-637) All Appliance manufacturers must be given the opportunity to attempt to repair any of their appliances before it can be returned or exchanged. For more information please click
here
Fridge-freezer measures 20.7"H x 17.9"W x 28.1"D
Features liquid drain and reversible door with left- or right-entry capability, quickly plugs into your vehicle's battery charger or standard outlets and rapidly cools items with fast-freeze option for convenience
Weighs 57 pounds for lightweight design
Features 63-quart capacity to save space
Adjustable temperatures from 8 to 50 degrees Fahrenheit for control
Two removable wire baskets for simple storage
Specs
Features
Material
Metal
Color
Grey
Product Features
Variable Temperature Control
Refrigerator Capacity Range
Up to 3 cu. ft.
Refrigerator Depth Range
28.1 - 32 inches
| | |
| --- | --- |
| Model Number | FP630 |
| Country of Origin | China |