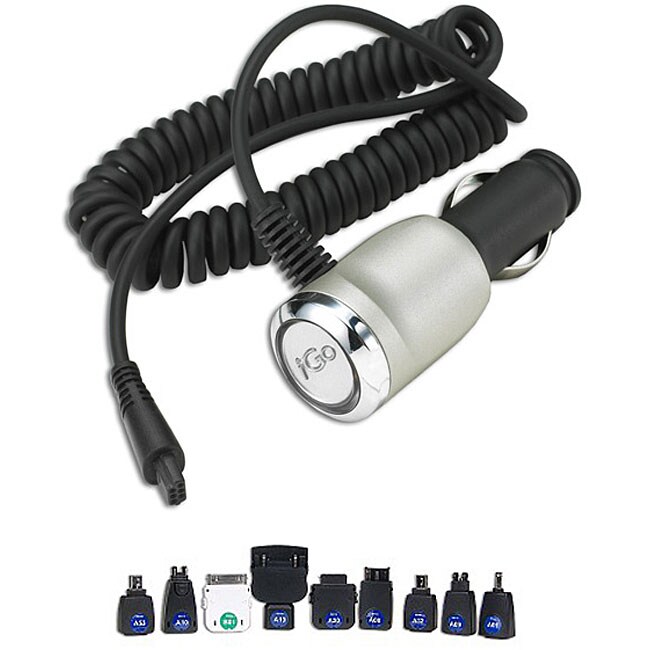 I was a little surprised to receive two sets of the iGo car chargers - but looking at the listing again, I guess that's what was advertised. I haven't used all the connectors yet (and probably never will) but the ones I have used work just fine. I previously purchased another iGo charger at Radio Shack that only came with one head and the additional connector heads alone cost $10 a piece. This double set is therefore well worth the price and then some. I'm giving the second set to a friend - who will really be getting a bargain at zero cost.
...
iGo AutoPower 3000 Car Chargers (Case of 2)
iGo AutoPower 3000 lets you power and charge multiple devices with one adapter by switching tips
Works with multiple gadgets, including mobile phones, Blackberry, Smart Phone PDAs, MP3 players
Ideal mobile electronics charging solution
Details
ITEM#: 11735751
iGo AutoPower 3000 lets you power and charge multiple devices with one adapter by switching tips
Works with multiple gadgets, including mobile phones, Blackberry, Smart Phone PDAs, MP3 players
Ideal mobile electronics charging solution
General Features:
Power-charge multiple portable electronic devices with multiple power tips
Coil extendable up to 7.8 feet
Short-circuit protection
A01 Power Tip: Nokia Mobile Phone: N-Gage Game Book, 640, 650, 1100, 1260, 2260, 3100, 3200, 3300, 3400, 3500, 5100, 5200, 5300, 5500, 6000, 6200, 6300, 6500, 6600, 6640, 6800, 7200, 7600, 8200, 8300, 8800, 8900, 9200
A08 Power Tip: Siemens Mobile Phone: A55, A56, A60, C55, C60, C62, M55, MC60, S55, SL55, SX1
A09 Power Tip: Sony Ericsson Mobile Phone: 2600, A2218z, K700i, P800, P900., R300, R380 World, S700i, T100, T200, T206, T226, T230, T237, T28 World, T28z, T300, T306, T310, T316, T39, T39m, T60, T606, T608, T60i, T61, T610, T616, T61c, T61LX, T61z, T62U, T630, T637, T68, T68m, Z200, Z500a, Z600
A10 Power Tip: Motorola Mobile Phone: Timeport 280, Timeport 270c, C331 w/antenna, C333 w/antenna, 388C, A835, C332, C343, C343c, C353, E380, V.120 Series, V.60 Series, V.70 Series, V200 Series, V400 Series, V500 Series, V600 Series, V710 Series
A19 Power Tip: Palm/Hand Spring PDA: Tungsten C, Tungsten T, Tungsten T2, Tungsten T3, Tungsten W, Zire 71, i705, M125, M130, M500, M505, M515
A20 Power Tip: HP/Compaq PDA: Pocket PC 1900, Pocket PC 2200, iPAQ 3800, iPAQ 3900, iPAQ 4100, iPAQ 4300, iPAQ 5400, iPAQ 5500
A32 Power Tip: Motorola Mobile Phone: A70, A780, M300, RAZR V3
A53 Power Tip: I-mate Mobile Phone: Jam, Krome Mobile Phone: Spy
B01 Power Tip: MP3 Player: Apple iPod
Regulatory approvals: CE
In the Box:
iGo AutoPower 3000 Series Charger Adapter
Device Compatibility Guide
Included Tips: A01, A08, A09, A10, A19, A20, A29, A32, A53 and B01
Specs
| | |
| --- | --- |
| Dimensions | 3 x 2 x 2 |
| Warranty | 1 year Manufacturer |
| Materials | Electronics Components |
| Model Number | igo3000 |
Does this work with an Apple iPhone 4 or 4s?

Did not see that product with any of the tips.

Does this work with a SanDisk Sansa Clip MP3 player?

This will not work with a SanDisk Sansa Clip MP3 player.
Shopping Guides
Rolex FAQ

FAQs about Pre-Owned Rolex Watches | Overstock.comFAQs about Pre-Owned Rolex Watchesby Shawna Edwards SHOP PRE-OWNED ROLEX WATCHES NOW >> I've never made a large purchase online. Why pick Overstock™?Overstock™ is one of the largest retailers of high-end jewelry and watches. We have taken the time to create a Web environment allows you to comfortably shop for wristwatches online. We offer a wide variety of timepieces at the most competitive prices available. In addition to this, we want you to feel secure purchasing from us. We are one of a handful of online high-end watch merchants that are capable of processing your credit card for your entire purchase. This allows "first-time buyers" to feel more secure in making a large purchase because they have an added layer of security via their credit card company. Do all your Rolex watches come with their serial numbers?Every pre-owned Rolex watch sold by Overstock™ will have its unique Rolex serial and reference numbers in place and viewable by removing the watch band from the six o'clock and twelve o'clock ends. What is meant by "Perfect Like New Condition?""Perfect like new (day one) condition" watches are pre-owned Rolex timepieces that are purchased by Overstock™ in pristine, mint, and immaculate condition. This is the case cosmetically and mechanically. Every timepiece is thoroughly inspected to ensure that they are authentic and meet our quality standards. These luxury watches are so pristine that, in most cases, they are indistinguishable from new watches. Our men's watches and women's watches may have miniscule markings, and the watch bracelets will have miniscule amounts of stretch. Will my watch come with documentation?Every watch will come with detailed documentation stating a full watch description, serial number, and model number. Being that the manufacturer's warranty has expired, you will receive a limited one-year warranty from our vendor. Will my watch be covered by a warranty, and what about post warranty service?Being that the manufacturer's warranties on these timepieces have expired, our vendor issues a one-year limited warranty on every watch. The warranty work is done by expert watchmakers who use only original manufacturers' parts and have decades of experience working with Rolex watches. After the one-year limited warranty has expired, you may continue to request service through our vendor who will service the watch when needed at industry cost prices. How can I be sure that the watch will fit my wrist?All our watches will fit up to a 6-and-a-half-inch wrist for a woman and for a man will fit up to a 7-and-a-half-inch wrist (extra links are available for additional charges). Rolex watches can be easily resized to fit any wrist by your local jeweler. How do I measure for my wrist size?You can get an approximate measurement of your wrist by using a soft measuring tape or measuring the inside of your best fitting watch. If you don't have a soft measuring tape, you can wrap a ribbon or a piece of string around your wrist at the wrist bone, mark the spot where it meets, and measure it against a ruler to determine your approximate wrist size. To get the best fit, measure fairly snug at the wrist bone. This is approximate sizing not a 100 percent guarantee of prefect sizing.If the watch is a gift and you do not know the recipient's wrist size, you can use the following as a guide (as with all products, the standard sizes depend on the manufacturer):Men's Standard Bracelet SizesInside, including watch face while bracelet is closedAdult Small5-1/2" to 6-1/2"Adult Average6-1/2" to 7-1/2"Adult Large7-1/2" to 8-1/2"Adult X-Large8-1/2" to 9-1/2" Women's Standard Bracelet SizesInside, including watch face while bracelet is closedAdult Small4-1/2" to 5-1/2"Adult Average5-1/2" to 6-1/2"Adult Large6-1/2" to 7-1/2"Adult X-Large7-1/2" to 8-1/2" Will the watch be fully water-resistant? And can I go swimming or shower with my watch?Every Rolex watch is fully tested for water resistance; the total depth rating is listed with every model. Drawing on years of experience, it is our recommendation that, though Rolex watches are water resistant, because of the fine nature of the timepiece, we discourage our customers from making a practice of taking them in the shower or pool. If for some reason the stem, which is the round mechanism found on the side of the case, which is unscrewed to set the time, is not completely screwed down, water could leak into the movement and damage the watch. (Please refer to your warranty card regarding water damage.) The chances are incredibly slim that this will happen, but nonetheless it is our recommendation that our customers refrain from taking their Rolex watches into the water to avoid any unnecessary problems. How does Overstock™ offer such great prices when my local jeweler has a similar piece for considerably more?Overstock™ has built the best connections in the business, affording us the ability to buy from dealers at the highest level of the industry. Through these connections, we can buy in the largest quantities while getting the best pricing. Being that we are not an authorized dealer of Rolex or affiliated with Rolex, USA, we are able to offer our customers rock bottom pricing without being subject to any manufacturer's price controls or policies. Do I need to be present to sign for the package?For your safety, you will need to sign for the package that contains your watch. If you are not present when it arrives, the package will not be left at your door. A door tag will be left to inform you when the courier will come to redeliver your package. Alternatively, you can call the courier to arrange a better delivery time or pick-up (with photo identification) at the local hub. What is the benefit of buying a pre-owned Rolex over a new one?Unlike new Rolex watches, pre-owned Rolex watches do not depreciate in value immediately after purchase. Therefore, buying a new Rolex watch is like buying a brand new car: The moment you drive it off the lot it has lost 20 to 30 percent of its value. With buying a pre-owned watch, you have effectively cut out any value depreciation and retail markup. Rolex watches hold their value over time; in most cases, a pre-owned Rolex can be resold at a price very close to your purchase price. Rolex designs don't change too often; therefore, owning a perfect condition pre-owned timepiece is as good as a new one, with no one knowing that the watch was purchased pre-owned. No one can spot a used Rolex on your wrist. With the proper care and maintenance, a Rolex lasts forever. How do I determine the age of my watch?You are guaranteed to receive a desirable modern watch with a fully automatic self-winding (or quartz movement depending on your purchase), with quickset date feature. Due to the fact that Rolex models are manufactured for a number of years, the year of your watch will be circa 1980s or 1990s. Every Rolex watch sold by Overstock™ will have its unique Rolex serial number, which determines the year of manufacture. Overstock™ and our Rolex Vendors are not affiliated with Rolex or Rolex, USA Inc., and are not an authorized Rolex dealer. Third party One-Year Warranty. Shop Men's Pre-Owned Rolex Watches Shop Women's Pre-Owned Rolex WatchesSee All Guides Read More Watch Guides Learn More about Watch BrandsPublished April 28, 2010Updated April 1, 2015

Fragrance Buying Guide

Shopping for new perfumes and fragrances can be tricky if you're not sure how to explain the scents you like. Talking about a fragrance can be as difficult as describing a glass of wine, with so many different layers of scents becoming noticeable as you enjoy it. This fragrance buying guide will show you how to identify the fragrances you are looking for and understand eau de parfum and eau de toilette concentrations, too. Make buying perfume and cologne easier, even when you're shopping online and can't physically smell the scents.
Shipping & Returns
Standard Return Policy for Electronics:
The items must arrive at our warehouse within 30 days of purchase. You must return items in their original condition to qualify for a full refund. We will issue a partial refund of up to 70 percent if returned items have been opened, used, or returned late. More Details
Shipping Information:
Our standard shipping method is ground shipping. We also offer expedited shipping for most items. Your final shipping cost and estimated delivery timeframe will be available at checkout.
Standard shipping details
Expedited shipping details
* For your protection, all orders are screened for security purposes. If your order is selected for review, our Loss Prevention Team may contact you by phone or email. There may be a two business day delay to process your order.
** Most Oversize orders are delivered within 1-4 weeks. Some orders may take 6 weeks to be delivered.
Featured