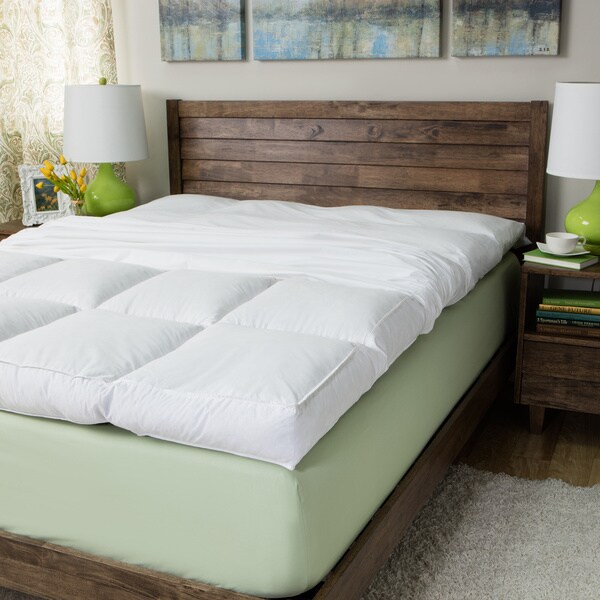 makes my bed so comfy - SO HEAVY AND THICK
...
Super Snooze 5-inch 230 Thread Count Baffled Featherbed Set
Details
ITEM#: 1125204
Bring old-fashioned style and comfort to your bed with this luxurious featherbed mattress topper. Relax into the extra support provided by the genuine feather filling that cradles your body for a restful night's sleep.

Enjoy the comfort of this featherbed mattress topper year round as its natural ventilation and breathable cotton cover provide seasonal warmth or cooling. Gusset baffle box construction maintains loft and ensures even filling distribution for optimum comfort. Fluff this featherbed weekly to redistribute the filling and maximize your comfort. Sleep comfortably night after night as the tight weave of the 230 thread count cover keeps the feathers contained to prevent them poking out.


Featherbed set includes 230 thread count, 100-percent cotton cover to prolong life and keep bed clean
Environmentally-friendly naturally renewable feather filling is supportive and provides relief for pressure points
5-inch gusset ensures optimum cushioning and even filling distribution
Tightly woven fabric cover keeps feathers from poking out
Fluff weekly to redistribute feathers and prolong featherbed life
Dry clean or professional launder only
Dimensions
Twin: 39 inches wide x 75 inches long with 12 pounds of fill
Full: 54 inches wide x 75 inches long with 17 pounds of fill
Queen: 60 inches wide x 80 inches long with 19 pounds of fill
King: 76 inches wide x 80 inches long with 22 pounds of fill
California king: 72 inches wide x 84 inches long with 22 pounds of fill
Down and feather-filled products are packaged tightly duringshipping. Upon receipt, remove this item from its packaging, fluffgently, and allow several hours for full loft recovery. Inaddition, products sealed in plastic packaging sometimes have adisagreeable scent because of concentrated natural fibers. A fewhours of airing typically removes the odor.
Specs
Features
Material
Cotton
Type
Featherbed
Care Instruction
Dry Clean
Fill Type
Feather
Product Features
Eco-Friendly
| | |
| --- | --- |
| Dimensions | See details |
| Model Number | 55300-6 |
| Country of Origin | United States |
Most Recent

makes my bed so comfy - SO HEAVY AND THICK

Read More

Great for our needs (see details)

BACKGROUND -- Our high quality latex mattress is too firm. We needed something to provide a bit of a pillowtop feel. 1st tried a higher quality 2" gusseted faux down which did help, but our 50 year old hip/shoulder bones were still hitting too firmly on the mattress. So, ordered this one and are very happy. Read on for specific characteristics that might help you decide if this product is right for you. COMPRESSION?? -- It compresses to about 2.5" during the night in the heavier portions of the torso area, but still has some give to it, and I don't touch the actual mattress. EASY DAILY FLUFFING TRICK!! -- You probably don't need to fluff daily, but I figured out a really easy trick that takes 5 seconds total. The trick is to put the sheets on your featherbed rather than your mattress as follows: Cover your bare mattress with a fitted sheet to protect it (ya, I'm picky). Put the 5" Super Snooze (in its 100% cotton cover) on top of the fitted sheet. Put your mattress pad on the featherbed [as extra protection for the dry-clean-only featherbed] but wrap the "fitted part" of the mattress pad around only the featherbed rather than the whole mattress. Then put your fitted sheet on, wrapping it only around the mattress pad and featherbed, but not the mattress itself. For the flat sheet, I tucked it in at the bottom between the featherbed and the mattress, but I think you could tuck it in between the mattress and the box spring and be just fine. Place duvet on top of the top sheet. All has stayed very nicely in place even though my husband is known for tossing/turning (which I think he's doing much less of with the Super Snooze!). Every day it takes about 2 seconds on each side to fluff it because I can easily get my hands between the mattress and the featherbed and then lift and shake a couple of times. Some days I don't fluff just like I don't always fluff my down pillow everyday. So basically, I'm putting sheets on the featherbed rather on the mattress. The bed looks perfectly normal when made, but when you pull the covers back, you'll notice that the featherbed and sheets are sitting on top of the mattress, rather than enveloping the mattress. So, while it may be a bit unorthodox, it works like a charm :-). SMELL?? -- We don't notice anything. If I unzip the cover and put my nose directly on it, I smell nothing other than natural fibers of the product -- nothing objectionable at all. A friend with asthma and severe allergies just bought last week and no issues (and they like it a lot). I wouldn't get it wet though. I do live in the foothills of northern California which is a low-humidity area, which might make a difference. CRUNCHINESS?? -- I maybe did notice a bit the first night or two. But nothing objectionable and nothing more than the normal rustle of fabrics (and I might have just been over-anticipating that I would hear crunchiness based on some of the other reviews). I don't notice anything now. CLOUD LIKE FEELING?? -- I wouldn't characterize it as that. It would have to be like my super soft 100% goose down pillow to call it that. But it is very cushy and comfy, and I do sink into it. I definitely don't want to get out of bed in the morning and enjoy the feeling of laying on it for a few minutes before I get up. I imagine it's a bit like having a very small full length body pillow next to you to curl up into. Luckily, it doesn't put my body into a "boat position" if I'm on my back. I do feel that my weight is evenly distributed. I sleep on my back, side, and stomach. My husband sleeps on his back and side. GETTING IN AND OUT DIFFICULT?? It does make my bed a bit high because my mattress is already fairly tall, but it's fine. Getting out is definitely different than rolling off a rock hard bed. It took about a day to get used to, and it's not a biggie. But if someone had a disability of some type which made getting out of a normal bed difficult, this featherbed might not be a good option for you. I definitely would NOT put an infant on his stomach on top this featherbed by the way!! TOO HOT?? I do think it is warmer than the mattress on its own . But that may be more from the fact that my mattress has no give to it which allows for gaps of air in between the small of my back plus the fact that my latex bed is a cool material. We haven't had any super hot weather since we got this, but I think it will be just fine even in mid summer. I use a 100% goose down pillow year round, so I think this won't be much different than that. FEATHER TYPE?? It is 100% duck feathers. No down. Per the manufacturer (I called them), they source the feathers from all over the world. The product is made in the USA of imported materials per the label on mine. The manufacturer told they do NOT cut or chop their feathers, and I would agree based on what I can see of the insides (per my internet research, whole feather is better quality than cut/chopped). While I have read that duck feathers aren't generally considered the best option (typically because they can sometimes smell due to a non-vegetarian diet of ducks versus a vegetarian diet of geese), the company said they wash the feathers multiple times, and I agree there isn't a smell to it. I've also read that duck feathers don't have as much bend as a goose feather and can "align" quicker with each other which causes them to lose loft -- time will tell, but I think as long as I fluff regularly it will be fine. I've also read that a higher quality duck feather/down is better than a lower quality goose feather. I suspect that these duck feathers are of a higher quality based on the comfortable feel of the featherbed. POKEY??? -- The feathers are very tiny. We've had absolutely NO poking of quills or escaping of individual feathers (we do have the cover that came with it on it). I have been unable to isolate the feel of an individual feather while laying on it (a good thing). QUALITY FOR PRICE?? -- I think it is an excellent quality for the price. WOULD I BUY AGAIN?? Yes, and I might soon for a different bed.

Read More

Have been sleeping on this 5 nights....I love it! We may have to fluff it up like some of the other reviewers said but so far I think it's great!

Read More

Absolutely wonderful. I had to take the box springs out because it was too high when I added the topper. I had a firm mattress that just was not working for me. The topper doesn't cause me any pain anywhere.

Read More
Most Helpful

A Must Buy Featherbed!!-Their not kidding 5-inches

Looking for a featherbed--This is the one!! I was leary when I received it and opened it up because of past experiences with purchasing other featherbeds. Not this one--they are not kidding when they say 5-inches thick it really is!! And to receive a cover sheet for that price-unbelievable. Lay it out on your bed and slide your cover sheet on--it begins to instantly fluff up and rise. I pushed the sides in and the top and bottom in and up until it is piled up like a pyramid on my bed, I let it sit that way to air out and fluff up. It really works--I do this every other week to really fluff it up-- and believe me it responds. I have to tell you that it is truly like sleeping on a cloud!! I had a friend who was store buying featherbeds for twice the cost and returning them because he was so dissatisfied. I told him to purchase this one and he loves it. He said,"Finally a featherbed that is all that it says it is...I cannot believe how comfortable this is." It is well worth the price..... and one comparable in quality would easily go for twice the price. If you have had similiar experiences with trying to find a good featherbed--Seriously!!---Look No More--This Is The One!!

Read More

Alright, so. Let me just start off saying that i found most other reviews lacking much information and i wanted to leave one with a bit more substance to it to hopefully help at least one person make a well informed purchase regardless of other reviews. So. I was browsing the web for mattress toppers at reasonable prices, because i'm on a budget. i came across this. After much comparing, i came up with a verdict. most, if not almost ALL Higher end feather-beds, especially with down content (this one has none) are usually HALF as thick as this one, but cost TWICE the price. Down is for warmth and a little extra softness, feathers provide softness and more support than down. I get really hot easily when i sleep so i was avoiding down, but looking for plush softness, So, that's what prompted me to make the purchase. I did however start browsing the comments and reviews a day after i made the order, and came across the negative reviews..i did worry a little, but once it arrived, l was more than certainly satisfied. some reviews said it was "too flat" or "crunchy"..I would just like to let everyone know the "crunch" associated with this particular feather-bed, is from the cover. It is because it is extra tightly woven cotton, (to prevent the feathers from poking through) As for those people who stated "it isn't 5 inches" or "Feel like it was misrepresented" in terms of thickness or flatness...Feather beds, regardless if they're all down, or all feather, or blended WILL be comfortable and WILL flatten down, EVERY, NIGHT. The secret is it MUST, MUST, MUST!! I REPEAT MUST!!!! a MILLION times MUST!!!!!!! BE FLUFFED EVERY DAY FOR THE "CLOUD" or "SINK IN" FEELING AND TO REACH MAXIMUM LOFT (height) I REPEAT ...DAILY!!! and i cannot stress that enough. Fluffing every day = Thick, Puffy Soft, cloud 5+ inches high. Not fluffing = flat, still comfy not 5 inches high This feather bed is 5 inches + when fluffed. When i fluff it, which i do very thoroughly, EVERY DAY, is EASILY 5 + inches, never any less. i repeat, NEVER less than 5 inches, when fluffed. Thats the way feather-beds have been since the 14th century, and its STILL that way today. There is simply NO way around it unless you have someone else do it for you. so if you're lazy, you probably wont enjoy any feathered, ever. Sorry. I might also add this was my first mattress topper / feather-bed purchase ever, and i am very very please in terms of comfort to price ratio. I am sleeping comfortably every night thus far (its been a month since i received it) and have not had a problem with feathers poking/ coming out or anything of the sort. Cover is very high quality, as well as the baffled part itself. Amazing for the price, and considering buying a second one to put on top of this one. Just because im a glutton for comfort.

Read More

After returning from a trip to Chicago where I slept on a luxurious featherbed at the posh W hotel, I went on a mission to find a comparable bed. Sleeping at the W was the best sleep I'd had in ages... like sleeping on a cloud as they say! My hunt ended when I found this wonderful featherbed from Overstock.com. I was skeptical at first... could it really be as great as the reviews and at such an affordable price? YES YES YES!!! My featherbed arrived amazingly fast and the quality is unbelievable. The bed is thick, heavy, luxurious and very well made. To be honest, I didn't expect much from the included cover and was prepared to purchase a separate cover. To my delight, I was wrong. The cover is wonderful as well! I'd buy another for my guest room but I'm sure my guests would never leave!!! <g> This is my second purchase from Overstock and I can't begin to sing their praises loud enough. Great customer service and super fast shipping add to the incredible bargains.

Read More

Worth 10x It's Weight in GOLD (PUFFY BED)

It was delivered yesterday (Friday). No bad smell at all. It had to be shaken and aired out so that it can "breathe" to allow it get fluffy. We call it the PUFFY bed. This featherbed is HEAVY - the fill is very high. Its comfortable and soft - while it gives support. You will have to shake it every day or so to make sure it remains "puffy" - as you would with any other featherbed. The included duvet cover is very smooth (high thread count) - fits like a glove and does not allow for the feathers come through. The height of ours is as stated 5". Its stitched in sections to prevent the feathers from shifting to one side of the featherbed. We purchased the King size and its covers our mattress perfectly. We are very pleased with this product. It was purchased to replace the (more expensive) 3" featherbed we've had for over three years and was not as high and highly filled as this one. Highly recommend a featherbed to all my friends, its the ultimate luxurious item for your bedroom. This one will be on the top of the list of recommendations! Our first night sleeping on it, well ...let me just say we did not get out of bed until noon!! A great purchase at an incredible price. Super fast shipping. Overstock.com does it again!

Read More

I received my feather bed one day while my husband was out-of-town. When he came home and laid down for a good night's rest, he raised the sheets and said, "What is this?!?!?" I said, "It's our new featherbed!" He said, "I'm telling you right now, I'm not going to like it". I asked him to sleep on it just one night and if he didn't like it, I would take it off." Much to his dismay, he loved it! He said, "That was the best nights sleep he had in a long time." We have had it for about a month now and can't wait to climb into bed every night. We loved it so much that we bought another one for our guest bedroom. Try it - you'll love it!!!!!

Read More
What type of feathers? Goose or Duck or Combo??

I now have the answer to my question because my order arrived the other day. The tag says 100% sterilized duck feathers; made for Pacific Coast Feather in Seattle WA; Made in USA of imported materials; 100% cotton cover.

The fill power is as following: Twin-192 oz, Full-272oz, Queen-304 oz, king-352 oz, and California King 352 oz.

In my opinion this is not a good product you have to fluff it to make it level out and it still does not support my body.

I think "fill power" is the wrong term. "Fill power" refers to "down", and this has no down in it. It is 100% feathers. But it is advertised at 19 pounds (which is indeed 304 oz) of feathers for the Queen size featherbed.

Read more Read less

How many inches thick is it?

The title and details both state that it is 5 inches

Hello KJK, the thickness is approximately five inches. Thanks for shopping with us!

The feather bed is 5 inches thick. It's amazing...

I would agree that fully fluffed it is the 5" described. Compressed from use takes it to about 2.5". It seems typical to lose about half to compression from use (until you re-fluff it of course).

Read more Read less

Is the fill hypoallergenic?

Hello baharris, As a featherbed, we cannot unequivocally state this product is hypoallergenic, however, we wash our feathers five to eight times, leaving essentially no allergens left in the product. Thank you for shopping with us!

Hi, Will you be getting king size back in stock?

Hello Nernnc, items are restocked as they become available; however, we cannot guarantee an item will be restocked. Thank you for shopping with us.

Hi, is this more firm or soft? thanks.

Hello jmpayne014, this item has received so many outstanding reviews. It is mentioned to offer Medium support. Thank you for shopping with us.

Can additional covers be ordered. If so, item number and cost. Thanks.

Hello kattroy, unfortunately, the cover is not offered separately. Thanks for shopping with us!

Are these feathers harvested cruelty free? I have heard that some feathers are pulled from live birds?

Hello GijoeyJoe. The feathers are not harvested while the bird is alive. I hope this helps. Have a great day!

Hello Sandy, the country of origin is Switzerland. Please let us know if you have additional questions. Thanks for shopping with us.

Are you able to fit sheets over this featherbed, or does it sit on top of the sheets?

Hello Amy, you should be able to fit sheets over this featherbed. Please let us know if you have any further questions.

Does it come with a zip protective envelope that can be remove and wash??

Hello jeancote, yes the cover is removable for washing. Have a great day!

I received this a few weeks ago, and have just opened the box to put it on my bed now that the weather has turned chilly. I did not receive the cotton cover!! I need this! Can you send?

Happy to report that I decided to call customer support, and they are in the process of taking care of this for me! Great support! Thank you, overstock!

Hello kew99, please contact Overstock Customer Care at 1-800-The-Big-O (843-2246). Please let us know if you have additional questions. Thanks for shopping with us.

Read more Read less

are you al out of king size? :(

Hello erose02, the in-stock sizes are listed from the options drop down box. Items are restocked as they become available; however, we cannot guarantee an item will be restocked. Thank you for shopping with us.

I need a featherbed that will not flatten completely. I have back problems and need support as well as softness for pressure points. Is it supportive?

Hello ChristineS, this is a fantastic, supportive option. Thanks for shopping with us!

Hello coolredhead, you should not have any issues with this lumping. Thanks for shopping with us!

Hello coolredhead, no, this is not crunchy. Thank you for shopping with us!

I am pleased with the improved comfort provided by this full size mattress feather topper. Small problem is keeping the topper stationary on the mattress top as it tends to slide a bit to the sides or down. Has anyone ideas for how to secure or strap it to the mattress?

Hello Michael, you might try adding a mattress protector to keep it in place. Thank you for shopping with us.

Hi, Is this featherbed treated with flame retardant chemicals? Thanks!

Hello OstkUser44082, no this is not treated with flame retardant chemicals. Please let us know if you have any further questions.

i just bought this featherbed in queen size. can i buy an extra cover? thanks.

Hello jonnyss, we do not currently have the cover available separate from the featherbed. Thanks for shopping with us!

how long before it flattens out.all the ones i have had in the past flatten out over time .how about this one ??? thank you

Hello JOSEPH g., fluffing weekly will keep the featherbed from flattening. Thanks for shopping with us!
Shopping Tips & Inspiration
Shipping & Returns
Shipping:
Leaves our warehouse in 1-5 business days. * *
Standard Return Policy:
Items must be returned in new or unused condition and contain all original materials included with the shipment. More Details
FINAL SALE EXCLUSION: Items marked as FINAL SALE are not returnable unless the problem you experience is the result of our error.
Shipping Information:
Our standard shipping method is ground shipping. We also offer expedited shipping for most items. Your final shipping cost and estimated delivery timeframe will be available at checkout.
Standard shipping details
Expedited shipping details
For your protection, all orders are screened for security purposes. If your order is selected for review, our Loss Prevention Team may contact you by phone or email. There may be a two business day delay to process your order.
** Most Oversize orders are delivered within 1-4 weeks. Some orders may take 6 weeks to be delivered.