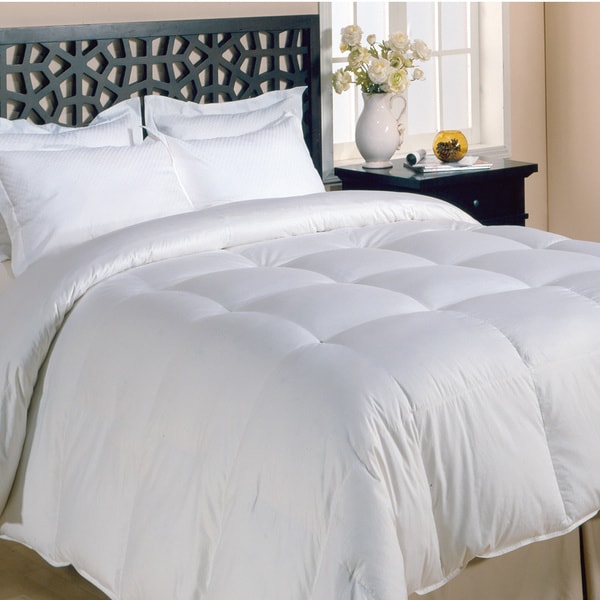 Excellent. Light weight and warm.
...
All-season Premier Microfiber Down Alternative Comforter
Details
ITEM#: 13831625
Brighten up the guest bedroom with this microfiber down alternative comforter by Premier. The white color gives it a crisp, clean look to impress your overnight guests, and the polyester down alternative fill is lightweight enough for summertime use but can easily be just as comfortable in the winter. Run your hand over the microfiber cover designed to add extra softness to this comforter. A 210-thread-count construction means the comforter is durable enough for every day use without compromising on comfort. Toss it in the wash to keep it clean and looking its best all through the year.




Features:

Hypoallergenic polyester fill comforter for all-season use
End-to-end box construction for a tailored look
210-thread-count microfiber cover for softness
Crisp plain white color
Machine washable for easy maintenance
Dimensions:
Twin: 62 inches wide x 86 inches long with 30 ounces of fill
Full/ queen: 86 inches wide x 86 inches long with 40 ounces of fill
King: 102 inches wide x 86 inches long with 50 ounces of fill
Polyester fill is naturally hypoallergenic.The digital images we display have the most accurate color possible. However, due to differences in computer monitors, we cannot be responsible for variations in color between the actual product and your screen.
Specs
Features
Material
Microfiber
Warmth Rating
Medium Warmth
Care Instruction
Machine Wash
Color
White
Fill Type
Down Alternative
Product Features
Duvet Insert, Hypoallergenic
| | |
| --- | --- |
| Dimensions | See Details |
| Model Number | M788904130824 |
| Country of Origin | China |
Most Recent

This product exceeded my expectation, particularly at the price

Read More

Super soft and perfect fit for bed. Probably order another

Read More

Nice quality. Consistent with description. Perfect for guest bedroom.

Read More
Most Helpful

Picture Doesn't Accurately Reflect Size

This comforter is fine as far as the warmth goes, how it is made and the materials used. I didn't want a heavy comforter and this one is great for summer. My only issue with it is that I ordered one for my new king size mattress and it covers the top of the mattress and just a tiny bit on the sides, but not enough to even remotely look like the picture of the comforter. Now that I've been looking for one that actually fits, I see that all retailers use photos that do not accurately represent the size. They do give the dimensions though, so if you want your's to drape like the picture, be sure to check the measurements before ordering.

Read More

Beautiful, soft and lightweight---and a steal!

This down alternative comforter surpassed my expectations. My apartment has heat included and tends to run warm, so I wanted something that wouldn't make me too hot. I don't overheat with it, but it protects me from the draft when I have to crack the window to control the temp in my apartment. Perfect!!! The microfiber fabric is smooth and appealing; it isn't stiff and doesn't "crackle" like cotton sometimes does. The filling is very even---I've had down comforters with pockets that are practically empty, but this one's delightfully uniform. No cold spots! I absolutely love the down alternative, too---no feathers poking out of the cover! My mom got a lightweight down comforter from a catalog a year ago, and this one was 1/3 the price and every bit as nice. Exactly what I needed.

Read More

Good comforter for the price

I would definitely buy this again. Much cheaper than comparable brands. Nice and fluffy, very comfortable. I used this under a duvet cover and it was perfect.

Read More

good quality but not heavy

This comforter is nice, but it is not heavy or warm enough for "all-seasons". It's definitely more of a spring, summer, fall comforter. Not warm enough for winter.

Read More

I get cold very easily so it was important that I get a comforter that keeps me warm especially since the year-round nighttime temp is between 40-50 degrees. I mistakenly left my window open last night and it was approximately 45 degrees out. This comforter kept me warm, I hadn't notice the window was open until I got out of bed. Downside was after getting back in it took a few minutes for my body to warm up again. This is a light comforter for it's size so it's easier to maneuver around than other king comforters I've slept under. Out of the box, it was so flat that I was worried I would be cold. It took about three days to fully fluff, even then it is not bulky. My only real problem with this comforter is that it makes a fair amount of noise.

Read More
Will the "Full/Queen" size fit inside a Full Duvet cover?

I am not using my comforter inside a duvet cover so am unable to give an answer to this question.

Is this comforter machine washible?

Yes it is machine washable.

Linda - I've washed mine plenty of times

Yes! I actually bought for my daughter who is in the Navy and she washes it every 2 weeks and it's still nice and comfy!!

Yes. It is machine washable and turns out like new every time.

I wash mine often but you do have to fluff it back up.. Still holds it's comfort and appear5ance.

I didn't wash it, but I don't see why not. It's completely synthetic, with no down. Absolutely a great buy!!

Yes, it washes very well. There is also minimal feather loss and once dry, the comforter fluffs up beautifully. My little one says it's like sleeping under a marshmallow cloud of comfort which describes it perfectly! I so wish they would offer twin size, too.

Yes, In COOL water and use a *Non-chlorine* bleach if you wish a more hygienic result.

Yes I've washed mine and it came out wonderful. I do have a washer that holds a large comforter, don't know if that would make a difference or not.

Ez care machine washable dry on low heat with a tennis ball to fluff. Love the feel just right for for a chilli summer mornings here in California.

Yes. I've had no problems and washed/ dried it many times now.

Yes, and it is an awesome comforter. Definitely recommend.

Yes Linda, the comforter is washable. Its very soft and light. I Love it.

Yes and retains its shape nicely.

Yes, washes very well. I just love it!

Yes. I did and it came out just the same.

Read more Read less

can this fit inside a duvet cover

Yes, this can fit inside a duvet cover.

Yes. I bought one for my daughter. She uses it with a duvet cover!

Yes, it is thin, not like the fluffy down comforters that can be too bulky for a duvet.

Read more Read less

It is finished I have just put a king size sheet over my queen one just to protect it from getting dirty from the dogs.

Yes, they are finished. The only bad thing about this comforter is - you can't wash it or it gets ruined.

Read more Read less

Hello! I just want to ask if the edges are finished off or is a duvet cover necessary? Thanks

Yes the edges are finished, not elaborately so if you want to use a cover you can, but we have not felt it necessary Colleen

Yes they are finished but I prefer a duvet cover on it as I have pets

Yes, the edges are finished. We use the comforter (we have two) as a blanket, with a bedspread over it. We love it! It's light and warm.

Yes, the edges are finished. You can use a Duvet also. I used a Duvet from*and it worked perfectly.

Yes, they are finished off. I found an awesome deal on the Overstock Flash Deals page for the duvet cover I use for it though and absolutely love it.

Yes, they are finished. You won't be sorry on this one. I have washed it repeatedly and it comes out beautifully. Just FYI--- I ordered a size larger. I have a queen size, but ordered the king size so the sides drape nicely to my bed skirt.

I hate duvet covers because they slip and slide, so it would never occur to me to use one with this comforter. It's fine as is.

Mine has two sides finished with satin ribbon and the other two sides are plain. I use a duvet cover because they are easier to wash. It is light weight and very comfortable.

At first, I didn't use a duvet cover and it was completely fine! I added one and I still love it but it is not necessary...

all edges are finished. easy care, launders well. warm but lightweight - perfect for us !

The edges are finished and it looks good. It's been washed at least a dozen times and hold up amazingly well!

The edges are finished and I use it as my bedspread plus blanket too!! Love it!! I don't mess with duvets.... ❤️

I believe the edges are finished. I haven't noticed because I put it in a duvet cover to keep it clean as I have pets.

Yes they are, i used it with a duvet and with out. Felt great eith out..... however it is your prfrence.

Although finished, I find it works best with a duvet cover.

I use it without a duvet cover , looks fine.

I put this comforter straight on the bed, without a cover. It looks pretty without the fru-fru.

Edges are finished with a tiny seem exposed. Seem is exterior not interior if item

Read more Read less

Again I am asking this question because the answer I got in no way addressed my inquiry....I have a duvet cover that is 92x96. Would a king size be too big? I worry that the Queen size might not fill the duvet properly. Hector A. Jun 1, 2016

do like most of us do ..... buy the damn thing and if you do not like it the policies of this company for returns is quite good. have done it many times. the king size should be large enough.... or..... you can always buy the CAL King like I did. Very satisfied. Use a pin or two to keep the conforter in place.

The king size comforter fits king size duvet covers- and so on...

If you have a king size I would purchase the king size duvet. By my standards its true to size however it's very thin and you can double it up if you need to.

Hi Hector, I purchased the King sized comforter for a king size bed. The comforter has a small amount of overhang-only. The king comforter dimensions are 102x86 vs. the queen which is 86x86. So, the queen comforter will not fill the duvet properly considering the dimensions. Hope this helps. EA

The dimensions for king size are listed above (102"W x 86"L with 50 ounces of fill) , might probably be too big for your duvet cover

The king is 84 x 96 inches.

Hector, it should fit. I have a queen size comforter and it fits my bed wonderfully. To err on the side of caution it may be wise to buy a king size comforter for your duvet cover. That's what I always did ..,,never had a problem. Good luck. This is a great buy.

Looking at the dimensions of your duvet cover and the the King size dimensions of the comforter, yes I think the comforter would be too big.

Yes, the king would be to large.

All I can tell you this comforter runs quite small. I sent back a queen size cause it did not come down the sides of my bed as it should have

The Eddie Bauer 650 fill power oversize queen should fit just fine.

It will work, go ahead and do it.

The king comforter would be way too big for the duvet. And the queen will not fill the duvet. This should be obvious if you read the dimensions in the product details...

IT PROABLLY WILL NOT FIT, BECAUSE MY COMFORT JUST DOES IT IN IT. THERES NOT ALOT OF EXTRA ROOM ON TOP OR SIDES

I have a QUEEN duvet and the QUEEN fits [ perfectly - I suggest the KING for your choice.

The queen duvet will be too small since it is 86'' x 86". I am very happy with the king duvet.

I have the queen size and it fits the queen duvet very well. I am sure that it would be too small for a king.

I bought the king size for my son & daughter-in-law. I made a reversible duvet cover for them, and sewed in color coded ties (on all 4 corners, and 1 more in center of bottom and each side) and velcro along the top. I sewed in the 7 color coded ties and Velcro to the top of the comforter as well. This keeps the comforter in place extremely well. Even if comforter was a tad smaller or larger than duvet, this solves that problem. I'm sure you can find someone (most dry cleaners have a seamstress) to do that for a minimal charge; it is truly worth it.

Queen would be too small for sure. The comforter should always be at least a couple inches bigger than the cover. I have a king down comforter and when the heat goes out in my building I stuff it into an 86 x 86 comforter cover and it's warmer than when in it's in its normal king size cover. It can be a challenge to stuff it in the cover though, and it's down which is more mush-able than polyester. This king comforter is 6 inches bigger in length and width than your cover. I think it will probably work but if you're hesitant or tend to get hot, look for an oversized queen comforter.

Read more Read less

I have a duvet cover that is 92x96. Would a king size be too big? I worry that the Queen size might not fill the duvet properly.

I ordered the queen and in the mean time i got a king mattress it is way too small it does not cover the top of the mattree it is perfect for summer not heavy at all it is light and keeps the air conditioner air off but it is just too small it may I mean may cover my old queen mattress but i am doubtful on that note. I would not order it knowing what i know now for a king size anythinging

Yes, the king would be too big.

The queen size is 86 by 86 inches, so it would be a bit small in your duvet. The king, however would be too big at 104 by 86 inches. You have an oversized duvet, so I would look at the sizes of the various comforters and find an oversize queen comforter. Or if you are a handy seamstress, buy the queen shown and take in the duvet a bit to fit.

The King size duvet is 102" x 86" so it has the width to fit 96 x 96 but the length is 86. Your duvet cover would be a bit empty at the foot end. Look for a better size comforter filler. Not sure they come in 96 x96".

Read more Read less

My duvet cover is 90inx90in. If I get this comforter in a queen, will it fill the comforter enough? Also will the comforter slip around inside the duvet while I am using it, or will it stay in place?

Yes, the queen will fit perfectly and should stay in place.

Hi, I bought queen size comforter also, and I use queen size duvet. It stays in place, doesn't move. All and all it is a good purchase. It is very warm...

Duvets always move unless you want to tack them down...regardless of the material being used. It's called a duvet..not a bedspread...so you will need to make that decision. This fill is as good as it gets unless you have a slippery fabric for the cover. (designer answer)

Read more Read less

I have brought this comforter, but I ordered it in the Cal King, and my bed is king and it does not flow to the floor like it shows on the picture. But I like it, use it like a blanket, very soft and not too heavy.

First off, does it say on the label that it is a Cal King ? I ordered the King and I have a queen size bed and it doesn't go all the way to the floor as shown in the picture. But yes, it's so soft and I love it anyway.

We apologize for any inconvenience. We recommend taking a look at the comforter measurements (102 inches wide x 86 inches long) as a reference to how it might look on your bed because each one will sit at different heights.

I would like to provide an answer but I bought this comforter as a gift and did not use it on my bed.

I love my comforter. I placed it on my queen-sized bed, but the bed may be a little short or there is always the possibility that the item was mis-labeled, I'm not sure. Mine covers my queen-sized bed and kept us warm this past winter. Our bed sits high off the floor, so that might be the issue. It did not go to the floor either, but taking a closer look at the pictured bed I would say it appears that there are two coverlets on it. Loved wrapping up in mine. Now that spring is well upon us it does not work for us, so it will go onto the line for airing and then get stored until autumn.

After 2 washing I had tp hrow it away. Terrible purchase for me

Read more Read less

In regard to washing the comforter: I have several down alternative comforters and they vary greatly in how well they stand up to washing. Several of them end up with the fill all clumped into one spot in each box, no matter how long I dry it. Another comforter that I have fluffs up great each time. Can you tell me if the fill will retain it's shape after washing? Thanks.

I have washed my comforter many times. I have yet to be disappointed it has retained its color, size and loft. I wash in cold water with a mild detergent dry in dryer , shake it out and place on bed. Washes like a dream for me. I wash at least twice monthly

Try taking it to a commercial laundry mat to dry since the dryers there are so much bigger. Put in a three new tennis balls to help with the fluff. Works like a dream

This comforter looked great until I washed it. Then a couple of the blocks had all the filling clumped in the middle and I could never get it to fill out. I thought the stitching was way too far apart when I bought it; should have returned it I guess.

I have washed my down comforter several times already. Even after drying it in the dryer; it still holds up. None of the filling is dislodged or mis placed. Love it.

You might trying drying it with some tennis balls in the dryer. They bounce around, hitting the comforter and making it even out the clumps. I use them in my dryer all the time to get my clothes to dry fast as well.

Read more Read less

We have two dogs and even though we take them to the groomer every month, I am worried about their nails snagging the comforter. Has anyone with pets had this issue?

No problems with dog nails snagging on it. The material is soft but durable. Very high quality.

I have 2 big dogs with and they are on my bed with me. I have not had a single problem with this comforter and the dogs. In fact, the fabric is pretty sturdy. The only thing is that they a bit small (I bought a king and it fits on a queen). I bought two and will probably buy two more! I love this comforter!

I purchased this as a duvet insert, so I have no worries on keeping it clean . I ordered the king size , even though the mattress is a queen. My queen mattress is one of those that is 14 inch deep. The king size really is not as big as I would have liked

Does this comforter have pillow shams to be ordered?

Is this a duvet cover over a comforter? Do you have pillow shams That go with this?

Read more Read less

Are there any added fire retardants or other chemicals to this comforter?

Hello cricket, no there are no fire retardants or chemicals on the comforter. Have a great day!

What is the width and length of this comforter?

Hello opinion98, this comforter is featured in the following approximate dimensions: Twin: 62 inches wide x 86 inches long, Full/ queen: 86 inches wide x 86 inches long and King 102 inches wide x 86 inches long. I hope this info helps! Thanks for shopping with us.

I order this item when I was traveling in November. Did not have a chance to print out the confirmation,also got notification that it was shipped but now is 12/21/15 still have not received it can you check where it went to Rosalia Chan

Hello r688, we are sorry to hear that this has happened. Please check the status by clicking the MY Account tab. This will allow you to see the most recent information available. Please feel free to also contact our Customer Care department via chat or phone. Thank you for shopping with us.

How Does this blanket wash? I wash mine everytime I wash my sheets (a couple of times a week). Does it keep its shape?

Hello Christine. We have not conducted washing every week testing on the comforter but during standard use, and multiple washing, the comforter washes normally. Have a great day!

not so true, washed mine and set on gentle, and cold wash, with woolite and each square had a ball of all the filling in each square, tried to spread it out again, but to no avail. guess i could use it under a duvet, but I think the large lumps would show thru, unless you have a very thick cover for it, enjoy it while it is new, cuz thats all ya get folks

I WANT TO SEE LIGHT BLUE BEBSPREASBFULL SIXE

Read more Read less

Hello LBeck-Dillon, this item can be used with a duvet as well. Thank you for shopping with us.

works perfect for a duvet cover that is a King size, at least 104inches, you will Need a duvet cover after the first washing, it balls up in each square and you cant sit there and try to spread it back out again and you SHOULD NOT have to, waste of ,money unless you are gonna use it for a Heavy duvet so the big humps dont show. I really expected more, this was a gift

Read more Read less

Do you have shams that match?

Hello Karen M., ITEM#: 12350084 is a great option for a matching sham. Thanks for shopping with us!

Are chemical fire retardants (PBDE or else) used in the production? Thanks.

Hello liz, thank you for your inquiry. Unfortunately, the information you have requested is currently unavailable. You will receive an email notification once an answer is posted. Have a great day.

doe this have the "divided"squares as shown in the picture or no?

Hello Monica T., this item does feature the pockets as shown in the photo. Thank you for shopping with us.

Does it have loops in the corners to tie a duvet to it?

No, it does not have loops in the corners.
Shopping Tips & Inspiration
Shipping & Returns
Shipping:
Usually leaves our warehouse in 1 business day. *
Standard Return Policy:
Items must be returned in new or unused condition and contain all original materials included with the shipment. More Details
FINAL SALE EXCLUSION: Items marked as FINAL SALE are not returnable unless the problem you experience is the result of our error.
Shipping Information:
Our standard shipping method is ground shipping. We also offer expedited shipping for most items. Your final shipping cost and estimated delivery timeframe will be available at checkout.
Standard shipping details
Expedited shipping details
For your protection, all orders are screened for security purposes. If your order is selected for review, our Loss Prevention Team may contact you by phone or email. There may be a two business day delay to process your order.
** Most Oversize orders are delivered within 1-4 weeks. Some orders may take 6 weeks to be delivered.